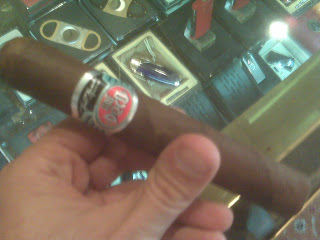 The Art Deco Gran Toro
Nestor Miranda and Don Pepin Garcia are rock stars in the Cigar business. Over the past year, Miranda and Pepin have collaborated on three sticks that are being launched under the Nestor Miranda brand of Miami Cigars – the Nestor Miranda Domincano, the 1989, and the new Nestor Miranda Art Deco. With it's flashy retro diner-style label, the Art Deco made its debut at IPCPR 2010. The Art Deco is something that might be a little different to Pepin fans. Nestor Miranda was quoted in a press release as saying, "We wanted to get Pepin out of his comfort zone, which is using Nicaraguan tobacco. He accepted the challenge and came out with an amazing blend using 40% Dominican tobacco." The result is a very good stick that shows the effort of such a collaboration.
As for getting Pepin do go Dominican with the Art Deco blend, Miranda must had done a little convincing on Pepin with the Domincano. The Dominicano, features a Nicaraguan binder and filler, but this contained a Dominican Corojo wrapper. This was a very good stick. With the Art Deco, Miranda definitely gets Pepin to take the next step by getting him to integrate Dominican tobacco with his trademark Nicaraguan tobacco in the filler and binder. This result is even better than the Domincano.
Here a breakdown of the blend:
Wrapper: Nicaraguan Corojo '06
Binder: Dominican Criollo '98/Nicaraguan Habano '00
Filler: 60% Nicaraguan Pelo de Oro and 40% Dominican San Vicente
The Art Deco is available in three sizes:
Coffee Break: 4.5 x 50
Robusto Grande: 5.5 x 54
Gran Toro: 6 x 60
One interesting note is the packaging. At IPCPR, we saw these cool retro "lunch-box" style tins that package 21 of these cigars.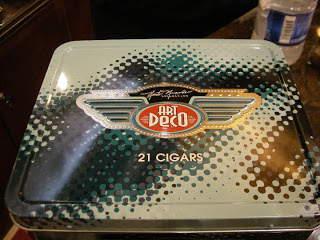 For this review, I went for my standby size – the big 6 x 60. I put a straight cut into the beautiful triple cap on this stick, toasted the foot and away I went.
One thing I learned from Henke Kelner's class at IPCPR was the San Vincente tobacco often produces an acidic taste. However with the Art Deco, I did not pick up a lot of this acid (There must have been some of that Pepin magic going on here). In fact, I picked up a cinnamon sweetness to start off with this stick. This sweetness was also complemented by some pepper tones. The stick then progresses to a cocoa flavor. The cocoa taste gets much richer as you get toward the middle of the stick. Given the tobacco profile, I expected a more complex stick as this stick just wasn't overwhelmingly complex. As for strength and body, I would definitely categorize this as a medium to full.
The burn could have also been better with this stick. There were many times I had to touch this cigar up to keep the burn even. I do believe this cigar probably could have benefited from some more aging. While the finish was not harsh or rough (it still was sweet), it was warm and soft.
Despite some of the shortcomings I mention above, I still found the flavors of this stick very good and I would definitely go back to this stick and have it again.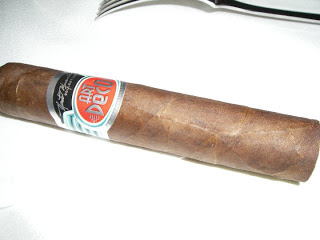 The Robusto Grande
Assessment: Nice to Have