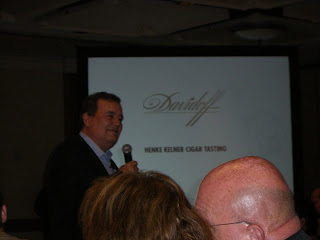 Class in Session with the Master Professor – Henke Kelner
Arrive in New Orleans and have to deal with the torture of chalk dust collecting on the wall by going to class? Not when your instructor is the master professor himself – Henke Kelmer of Davidoff.
Professor Kelmer presented a masterful session on the art of cigar tasting and cigar blending. For the over 200 students that were in attendance, to say we were blown away is an under-statement. Just when we thought we knew everything about cigars, the professor threw a few more things in there to make life just a little more interesting.
To kick things off was a discussion about how the different sensations of the tongue. The diagram below illustrates how the different parts of the tongue pick up different tastes.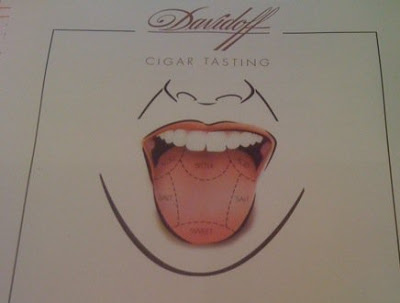 Taste Sensations of the Tongue
Then began an lab exercise to illustrate how different tobaccos grown in different regions pick up different taste sensations. For this lab exercise we were given six cigars to taste. Three cigars were Connecticut Ecuadorian wrapper with a common binder and filler. The other three were blends of the binder and filler with a varying wrapper. The photo below illustrates our lab materials.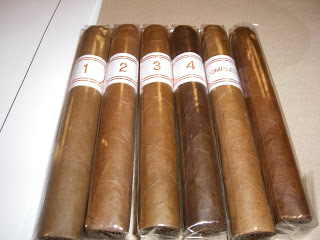 Lab Materials
Cigars 1 to 3 in the Lab Materials were the single blend cigars. When we tasted these, it became very clear on how the different tobaccos stimulated different sensations on the tongue.

The Single Blends
Blending the different tobaccos and varying the wrapper is the secret to blending. A key factor in determining the final taste is the size and ring gauge of the stick as that determines the influence of the wrapper in the cigar's taste. That is what the other three cigars in the lab materials demonstrated.
Turns out that the blend of Olor, San Vincente, and Piloto, combined with an Indonesian Wrapper creates Davidoff's new Gran Cru (Cigar 4). The Complete represented a version of the Gran Cru using the Connecticut Ecuadorian wrapper used on the first three sticks. The unlabeled cigar was a version of the Gran Cru with a Dominican Wrapper. These three blended sticks will all yield varied flavors.
Kicking off with a Davidoff Gran Cru and the conference has barely started….unbelievable. But perhaps the thing to take away is to really pay attention to the tobaccos and the growing regions that comprise a cigar. It can truly give you a whole new appreciation for that stick in your hand.