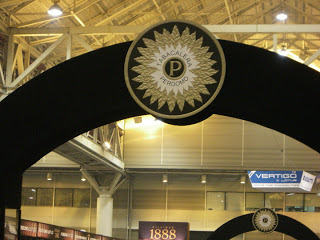 Entrance to the Perdomo Lounge
My visit to Perdomo Cigar Lounge at IPCPR was one of the more interesting ones. During the week at IPCPR, I noticed there was a flurry of activity in this booth/lounge. And it wasn't just me as I have seen a lot written that this was one of the busier places at the trade show. Ultimately my visit to Perdomo cigars was a very positive one and when I saw Nick Perdomo himself in action – it took things to the highest level on what I think about his product, his company, and him as a person.
Value has been an underlying theme with Tabacalera Perdomo over the past year. Nick Perdomo and his company garnered a lot of attention by absorbing the SCHIP tax on certain labels. At this year's IPCPR, Nick continued to promote what he is doing on this area. Folks can say what they want about why Perdomo chose to do this, but this is a GREAT THING. I can also tell you this was not without cost for Nick and his company. I would bet that any time a price reduction happens, it is bound to impact day to day business operations. Hopefully in the long run, this makes sense.
Nick has introduced two new cigar brands at IPCPR. One is a new version the Cuban Bullet (being called Cuban Bullet v2.0). This is more of a cigar in the bundle price range – under $4.00. This is an Nicaraguan filler/binder with a choice of Connecticut, Sun-Grown, or Maduro wrapper. The key thing is that the short fillers in the old version have been eliminated and now the focus is strictly on long filler – better quality and more value.. The other cigar is Nick's Stick Little Havana blend – this is intended to be in the value-priced cigar range, just under $5.00. This cigar was something offered by Perdomo Cigars at their shop in the 1990s and has been brought back. This also offers Nicaraguan filler/ binder with the similar wrapper choices. With more value choices, Nick deserves credit here as well. There were some variation of the old brands as well. A new cigarello size Perdomo Reserve 10th Anniversary Champagne was very intriguing.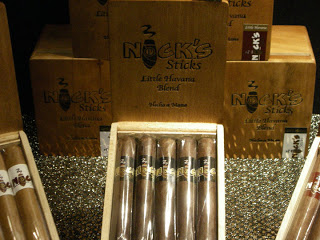 Nick's Stick – Connecticut (L), Maduro (C), Sun-Grown (R)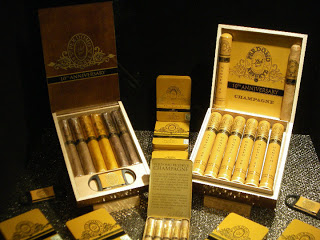 Perdomo Reserve 10th Anniversary Champagnes on Display – Maduro and Criollo to Left
But perhaps the best part was watching Nick at the Perdomo lounge. As mentioned the Perdomo booth was pretty busy. In fact all of Nick's representatives were busy with someone (including one talking to our group). I happened to observe Nick finishing up with a customer. Once he finished, Nick then proceeded to grab some glass cleaner and a cloth and began to clean the booth displays. Unfortunately, the timing wasn't right to snag a picture, so word of faith will have to be taken. However considering the beautiful displays (see above and below), it was great to see this level of pride by Nick himself. It's clear to me that Nick Perdomo takes great pride in three things: the cigar industry, the customer, and his product. .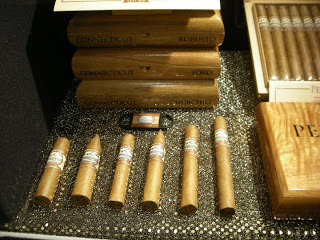 Perdomo Lot 23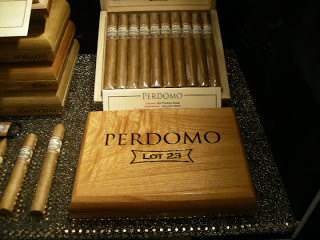 Another View of the Perdomo Lot 23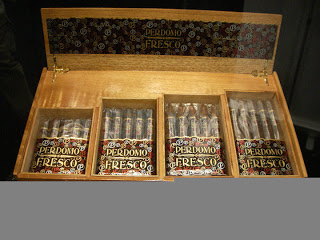 Perdomo Fresco on Display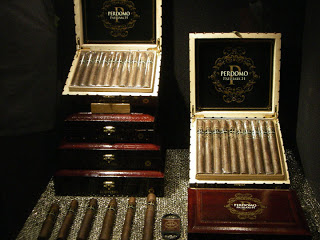 Perdomo Patriarch