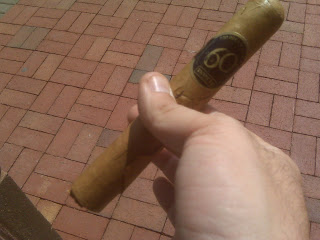 At the IPCPR, one cigar company I came across was Bad Dog Cigars. Bad Dog Cigars have been doing some interesting things with their line of cigars. There is some innovative stuff going on with their wrappers – particularly involving the release of exotic wrappers from Brazil and Zimbabwe (hopefully I will have more on this in a follow-up). One mainstay of the Bad Dog line has been the Patch line of cigars. At IPCPR, Bad Dog released a new size of their Patch called the Patch 60. This is a new 60 ring gauge cigar they have released adding to to the existing Patch 42 and Patch 56 lines. One new spin they put on this cigar is the new Connecticut Shade wrapper that has been added to this cigar (I haven't seen references to Connecticut wrappers on any of the other Patch cigars)
Right now I have not been able to get a lot of info on the blend of this new cigar, so I'm not going to publish this. However, I will say this was one outstanding big Cigar with a Connecticut wrapper.
The bad news, I dropped this cigar right before I lit it. It cracked the thin wrapper. This is my fault. You can see some of the cracks in the picture above. For the most part, considering this cracked, this cigar burned really well. It only gave me problems where there was some loose wrapper by the cracks – and that was easily touched up. The overall strength and body was a medium and not mild by any means. The cigar started off with a good peppery spice and cream mixture. About 10 percent into the smoke, some licorice notes began to emerge. The Licorice became more dominant as the stick progressed. The spice diminished about half-way through the stick and the Licorice/Cream mixture was dominant until the end.
This is a cigar I'd want to try again. Considering I dropped this stick, this still burned pretty good. I also was very surprised to get medium strength from a Connecticut wrapper.