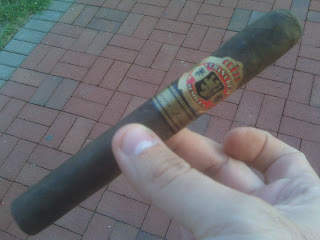 A lot of people who know me know I am a big fan of Esteban Carrera's Cigars. I would definitely categorize Estaban Carrera's as one of the Indie Cigar companies. Typically with an Indie Cigar, I look for something unique and special with the line. With this line of cigars, I do believe that Esteban Carrera's President Craig Cunningham has done special with his line of cigars – namely providing unique and complex cigars while keeping within that "value price" range of $5.00 – $7.00. One stick in the Esteban Carrera's collection that I had not tried was the Cubana Real Semilla. This cigar proved to be a major surprise to me and it showed me that this line of cigars truly has some depth. This was a cigar that was not only very complex, but very good as well.
Here is an overview of the make-up of this cigar:
Wrapper: Nicaraguan – available in Maduro, Habano, and Connecticut
Binder: Nicaraguan
Filler: Nicaraguan
Here are the sizes available:
Churchill: 7" x 50
Robusto: 5" x 50
Toro: 6" x 50
Torpedo: 6 ¼" x 52
For the purposes of this review, I opted to go with the Toro and the Maduro Wrapper. As always, I put a straight cut into the cigar, toasted the foot with my butane lighter and away I went.
The flavor make-up of this cigar is as complex as any. The initial draw of the cigar brought out some brief citrus sweetness. This faded quickly and notes of oak emerge with a light pepper overtone. These oak tones really gave this an "old school" cigar feel. As this reached the 1/3 point, the oak soon would then transition to more of a Bakers' Cocoa and leather flavor – while still keeping its "old school feel". Strength-wise this stick definitely falls into in the medium category.
The pepper tones also faded around the 1/3 point but the Bakers' Cocoa/Leather flavor remained. By the halfway point, the strength actually decreases somewhat (putting it on the low end of the medium category in terms of strength). Heading into the second half, the cocoa flavors dominate and a sweetness emerged. This provided a deep rich chocolate taste for the remainder of the smoke. In the second half, some of the pepper tones that this stick started out with returned. The strength soon returned to its original strength.
The finish was not harsh and I was able to get a good nub. I had a couple of touch-ups to do on this cigar, but I didn't have to work this all that difficult.
While this cigar looks very strong, as I mentioned above it really is more of a Medium throughout the whole smoke. However, I wouldn't hesitate when looking at the whole package as classifying this as a Medium to Full in terms of body. Remember strength refers more to the nicotine/spice of the cigar while body refers to depth, breadth, and richness of the tobacco.
Overall, a very good cigar and yes it falls into that value-priced $5.00-$7.00 range! For the price, you cannot beat the flavors that this cigar produces. Once again Estaban Carrera's does a great job!
Assessment: Nice to Have (high end)