Glow in the Dark Wrapper of the New Viaje Skull and Bones
One of the most sought after Cigars in 2010 has been Viaje's "Skull and Bones". Earlier this year a batch of 150 of these cigars was shipped and it was gobbled up by Cigar Enthusiasts quickly. I'm pleased to report that I have gotten information from Outland Cigars in Charlotte, NC that they have received a limited shipment of a new release of this cigar.
In the "indie" cigar market (or commonly called boutique cigar market), Viaje has been building a reputation that is helping distinguish themselves from their competition. Viaje has been employing a "micro batch" process for its cigar releases. Namely, it is producing the majority of its boxes in small batches (i.e. under 500 boxes) for a release. Once the batches are gone, so is the cigar. The other thing is that the cigars are very good. The majority of these micro-batch releases have been memorable smokes. This micro-batch release was the vision of company head Andre Farkas. For the "Skull and Bones", this has been a real limited micro-batch – namely 150 boxes!
The first release of the "Skull and Bones" was in the spring. The Vitola was named "The Daisy Cutter". It was an all Nicaraguan cigar with a Nicaraguan Criollo wrapper. It was a small 4 x 54 stick, but from all of my reports – most satisfying. I recently was given one by a friend and I am going to smoke it with him and provide a review. However all reviews have been very positive!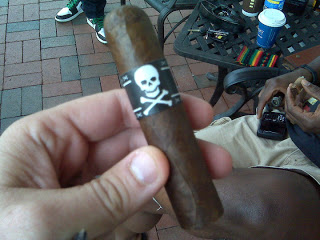 The Original Viaje Skull and Bones
The word on the new "Skull and Bones" is that this comes in a Robusto-like Vitola. I've heard some reports the blend is different, but will reserve judgment until I have more facts (Viaje is usually pretty low-key on these things when it comes to publicizing the blend) It has a "Glow in the Dark" band (see above) – just in time for your Trick or Treating! I'll also have one of these new ones in my hands and will post more information and a review of this exciting release. Like the first vitola, this is an extremely limited release.
I'd like to personally thank Outland Cigars for giving me the FIRST opportunity to post some information on how to get this most sought after cigar. This pretty much is a Charlotte exclusive and I could probably count one one hand the places in the Carolinas (and probably East Coast) where you can get this. Outland Cigars will be selling a limit of 2 sticks per customer. Outland Cigar Club members will have first shot – Founder members will be the first able to buy these sticks through Saturday October 16th. On Sunday October 17th, Ambassador and Passport members (as well as Founder members) will be able to buy these sticks. On October 18th, these will go available to the general public. (Note all information I have above is subject to change, but this was the information I was given)
Stay tuned to Cigar Coop for continuing information on this stick.