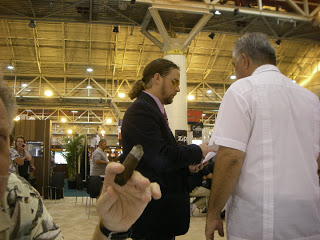 Sam Leccia at IPCPR 2010 in action
I saw this post on this post on the Cigar Aficionado Web-Site. The legendary Sam Leccia is leaving Oliva Cigars.
Sam is truly one of the Cigar-ebrities in the business. He is the master behind the the Nub and Cain sticks. The Nub and Cain sticks will stay a part of the Oliva family.
The interesting thing will be to see what Sam does. My guess (and this is strictly a guess) is that we may see Sam launch his own brand. Hopefully this won't be the last we see of Sam as a Cigar-ebrity
Click here to read the news on this big development.