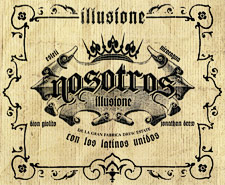 I'm a little late with this info, but the dream collaboration between Illusione's Dion Giolito and Drew Estate's Jonathan Drew is history. It has been announced that the Illusione Nosotros Cigar is being discontinued.
Going into 2010, this collaboration was the buzz throughout the Cigar industry -namely as a result of these two cigar-ebrities teaming up. The Cigar was released earlier this year and was widely considered a disappointment. I talked to some folks at IPCPR about this stick, and was told by some key folks close to this stick that (to paraphrase) "The stick was rushed and not ready…" When I heard those words I detected something could be wrong with this partnership. Yet, at IPCPR, Nosotros was proudly on display at the Drew Estate booth.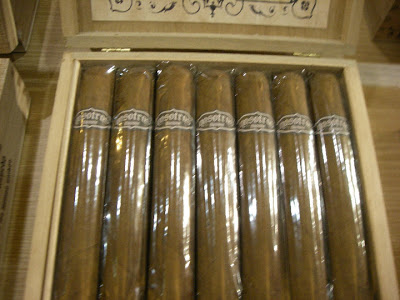 Nosotros proudly on display at the Drew Estate booth at IPCPR
Referencing an article in Cigar Aficionado, Giolito released this statement today announcing the end of the cigar brand, saying the move was effective immediately:
"Illusione cigars will no longer participate in the Nosotros brand project with Jonathan Drew DBA Drew Estate. After two and a half years, terms for a product delivery date still could not be negotiated. The Nosotros brand/trademark dies in the Drew Estate Factory as per contractual agreement, and will not be made outside of the factory where it originated."
Also in that article, when Jonathan Drew of Drew Estate said, "It was an interesting experience."
Reading that article and remembering the conversations I had at IPCPR, I was not surprised at the comments or the announcement. It all seemed to jive to me. It is still sad that this collaboration did not work out as most Cigar Enthusiasts wanted this stick to be a success.
Despite the disappointment of the Nosotros, it will be interesting to see what Cigar Enthusiasts do in terms of purchasing the sticks that did make it to shelves before it was discontinued.