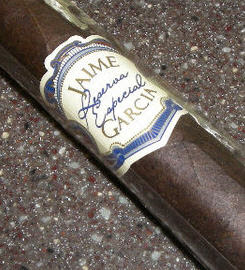 #14 Jaime Garcia Reserva Especial
Continuing to head into the cream of the crop, it is time to reveal the 17th stick of "30 Cigars in 31 Days" – my review of the Top 30 cigars for 2010.
The #14 Cigar of the Year is the Jaime Garcia Reserva Especial – a new stick from Don Pepin Garcia's My Father Cigar line. This stick made its debut in right before the 2010 IPCPR convention and was a big hit. The cigar features trademark Pepin Nicaraguan filler, and Ecuadorian binder, and is showcased by a Connecticut Broadleaf wrapper. The Nicaraguan tobacco is a combination of one tobacco grown on the Pepin farm and one tobacco grown on the Oliva farm. The cigar looks rich and full – and this one delivers.
The flavor profile stars off with a trademark Pepin blast of pepper. It settles in nicely with notes of black cherry, coffee, cedar spice, and some remaining pepper notes. The pepper and spice notes will periodically increase and decrease with spice throughout the smoke.
The best part of this is the price point. This stick comes into the true-value sweet spot on price around $6.00-$7.00. Yet, I saw no sacrifice of the Pepin quality.
I will post a more detailed review in the near future.
Recommended Vitola: Toro Gordo (6 x 60)