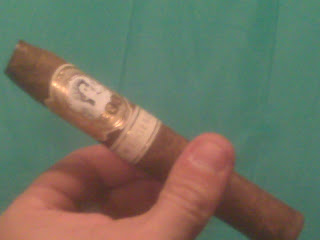 #7 La Palina Family Series "Ligero" ("Alison" Vitola)
As we enter the "Select 7" – the Top 7 cigars of my countdown of the Top 30 cigars of the year (a.k.a "30 Cigars in 31 Days"), it is worth noting that the seven cigars remaining in the countdown were all under consideration at one point or another for the Cigar of the Year honor. Without further adieu, it is time for the 24th installment of this list.
Coming in at #7 is the La Palina Family Series – Ligero. The La Palina Family Series is truly one of the revelations of 2010. Bill Paley, the son of the founder of CBS Broadcasting became intrigued with bringing back an old line of cigars from his grandfather called "La Palina". As a result, he launched this line of cigars this year. You can read the details of the story on the web-site in detail.
The La Palina Family Series actually consists of two different blends. The blend branded with the sub-band "Ligero" on the cigar consists of an Ecuadorian wrapper, a Costa Rican binder, and a blend of ligero from Honduras and Nicaragua. (Note -the other blend in the Family Series is similar, but not sub-branded "Ligero". That consists of a Costa Rican wrapper and binder as well as a blend of Honduran and Nicaraguan filler).
The La Palina Family Series "Ligero" cigar will not overpower you. I would categorize it as a medium strength and medium bodied stick. This cigar proves you don't need a full-bodied cigar to have a great smoke. The flavor notes are very unique – cedar spice, cashew nuts, cream, blackberry (yes blackberry), and herbal notes. With the blackberry and herbal tones, you might think this tasted like an infused cigar – but it didn't. It had a wonderful natural feel to it throughout the smoke.
A full review is available here for more details on my experience with this cigar. In this case it is the review of the "Alison" vitola.


Recommended Vitola: Alison (Torpedo 6 x 52)