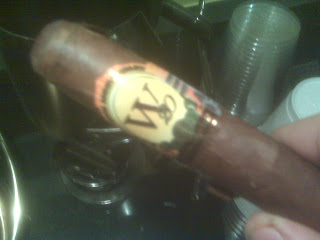 One reason why I have opted for a "Pre-Review" as opposed to a full review is because there are times I am missing information to do a detailed assessment. My detailed assessments include I liked the cigar or not, but it also includes information about the blend and the vitolas available for the cigar. The Felipe Gregorio W20 is one of those cigars that falls into that category. This is a cigar that I received a few months ago and I had sitting in my humidor. When I finally lit this cigar up, despite a crack in the wrapper – this provided a very positive experience for me. I also figured by documenting my experiences on this cigar, I could generate some interest in this cigar.
I don't have a lot of information on the blend. I do know the wrapper is Habana 2000 wrapper, but I don't have details of the origins of this. I have heard there is ligero in the filler; but again did not find information in regards to the origins either, so I'm not going to venture to guess.
I have used the good ol' internet to find details about the vitolas available. Casa Felipe Miami does have these cigars for sale and I was able to pull out some information here.
Magnum Marron: 6 x 62
555 Marron: 5 x 55
Superbo Marro: 7 x 60
Maxibusto Marron: 4.5 x 54
Being that I prefer I big ring gauge, I would have love to try the monster Magnum Marron or the long Superbo Marron, but the sample I got was the Maxibursto – a chubby Robusto. Still I'm not going to look a gift horse in the mouth as I did receive this cigar as a sample.
While I mentioned, I did not have details of the blend, the other reason I did go with a Pre-Review is because of the crack I had in the wrapper. However, the cigar was sitting long enough, so I decided to go and give it a try.
After putting a punch in the cap and toasting the foot, I was pleasantly surprised by the burn. The cigar was holding its own despite the crack. The cigar was generating quite a bit of smoke, but this could be because of the crack. The flavors start off with some cedar-like sweetness. Eventually I began to detect notes of pepper, nuts, and even cherry-like sweetness to complement the cedar. The cigar was advertised to be be a full-bodied smoke. From my point of view, it was definitely full strength (it definitely packs a punch), but from a body standpoint I'm still more inclined to put this on the upper end of that Medium to Full range.
As I mentioned, despite the crack, the burn was fine. It required a couple of touch-ups, but overall it was low maintenance to keep a good burn. No draw issues either as this was fine as well.
Given the punch of this cigar and the nice flavors, I would definitely not hesitate to reach for this cigar again. I would not hesitate to give this to the seasoned full strength cigar enthusiast. My goal is to find more information on this blend and follow-up in the near future.