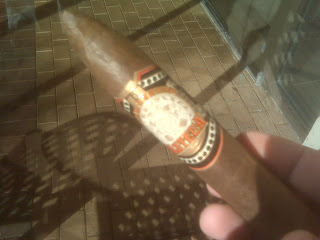 Gran Habano Azteca Aguila
There is a myth out there – Mexican tobacco makes a bad cigar. This could not be less true. My selection for 2010 Cigar of the Year, the Avo LE10, makes uses of a Mexican binder. Another cigar that made my Top 15, the La Aroma de Cuba Mi Amor makes used of a Mexican Cuban seed wrapper. However when it comes to most cigars, I usually always play it safe and gravitate toward making sure at least one component of the trifecta of tobacco (Nicaraguan, Dominican, and Honduran – leaving Cuban out because we all know there is an embargo) is involved with the majority of the blend. Then, along came a cigar called the Gran Habano Azteca, and it proved me all wrong.
The Gran Habano Azteca was created by George Rico of Gran Habano cigars. When I first was given this cigar, I was impressed with its dark, oily wrapper. It is when I discovered the composition of the blend, I was completely surprised:
Wrapper: Mexican (San Andres) Maduro
Binder: Mexican (San Andres) Maduro
Filler: Panamanian, Nicaraguan
Now you can see, 2/3 third of the components (wrapper, binder) of this particular cigar are Mexican tobacco (thus the name Azteca) The filler does have some Nicaraguan tobacco, but it also has a blend of Panamanian tobacco. In other words, this blend does not follow a traditional recipe. Over the past few years, I've been hearing positive things about Panamanian tobacco – this was my first time in a major brand I've tried it.
The vitolas that are available are:
Aguila (Torpedo): 5 1/2 x 52
Jaguar: 6 x 54
Puma: 6 x 60
For this review, I sampled the Aguila Torpedo. Therefore, I put a straight cut into the Torpedo, toasted the foot and became most curious of what to expect from this cigar.
The initial draws of the cigar provided some salt flavors, but also produced some coffee tones right off the bat. The salt flavors quickly fade. A couple of minutes into the smoke, flavors of leather emerged with the coffee. It is around this point where I got a most unique sweetness from a cigar – almost a honey-like (but not infused like) sweetness! The honey sweetness does fade around 1/3 of the way into the cigar. At this point the leather, coffee, and chocolate (non sweetened) take over and this will be the flavor profile for the majority of the smoke. I'd definitely categorize this as a Medium to Full bodied smoke, even though from a strength perspective it is a Medium. The finish to the smoke wasn't a great nub – soft and warm.
This cigar produced quite a bit of smoke. The draw was good, but not perfect – there were times I had to work this particular cigar a bit. The burn was fair – required many touch-ups. Overall, I enjoyed this cigar a lot from a flavor experience. However the shortcomings of the draw and burn definitely prevented this from being assessed as "Memorable".
Most importantly, this cigar proved to me that I could get away from including a majority of the blend from the "bread and butter" trifecta of tobacco (Nicaraguan, Dominican, and Honduran) – yet get a pretty tasty cigar. The price point is $7.00-$8.00 – slightly above the sweet spot for a value-priced stick. I would definitely reach for this cigar again.
Burn: Fair
Draw: Good
Strength: Medium
Body: Medium to Full
Assessment: Nice to Have