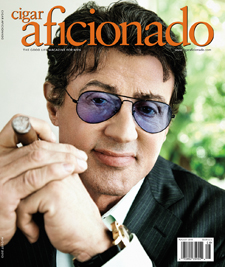 While most of the gripes I've had with Cigar Aficionado's Top 10 are still valid, there were some pleasant surprises in the remainder of the Top 25. I was pleased there were at least two of my Top 30 sticks to be mentioned.
I didn't go and comment on every stick, just the ones that I felt were noteworthy.
| | | |
| --- | --- | --- |
| Rank | Cigar | Comments |
| 12 | Carlos Torano Exodus 1959 50 Years Box Press | I've had this cigar. I believe the box-press vitola is new for this year, but this is a blend prior to 2010. My buddy Stace loves this stick and named (the non box-press) his Cigar of the Year. I really liked it too, but also need to try the box- |
| 14 | A. Turrent Triple Play Belicoso | New stick for 2010. I preferred the Gran Toro size. Cyberworld did not give this cigar the respect it deserved. This ranked as my #20 cigar for 2010. |
| 15 | C.A.O. La Traviata Divino | Prior release for 2009, but heard it missed the deadline last year. In my opinion the Interpedo (Churchill size) is the better vitola. This cigar was my #2 Cigar for 2009. |
| 16 | My Father No. 2 Belicoso | Not sure if this is a new vitola or not, I had the My Father ranked #12 for last year. |
| 17 | Brick House Robusto | I did not like this cigar. It also is a 2009 release. Personally I cannot see how this made anyone's list. |
| 18 | Oliva Serie V Maduro Especial | While Oliva is a staple of the Cigar Aficionado list, I'm not surprised this made the list, this is is a pretty good stick. |
| 19 | Rocky Patel 15th Anniversary Toro | New stick for 2010. I agree with Cigar Aficionado on the vitola here. This was my #23 cigar for 2010. |
| 24 | Casa Magna Colorado Churchill | How the mighty have fallen…two years ago the Robusto was #1. I wonder what has happened. I still prefer the Oscuro that Manuel Quesada came up with. |
A few other points as we summarize the Top 25 from Cigar Aficionado:
What a year for Team La Gloria Cubana, yet they were shut out of the Top 25 list on Cigar Aficionado. This was a shame. These were 3 of my Top 16 cigars.
The three sticks that I felt were on the bloggers Top 25 – La Aurora 107, Tatuaje Pork Tenderloin, and Liga Privada Dirty Rat were not included. Although I did not rate the 107 or Pork Tenderloin (I didn't try the Pork Tenderloin, but was indifferent on the 107), a lot of folks liked these and they should have not be overlooked.
Very disappointed La Palina did not rate on the list – they were two of my Top 7!