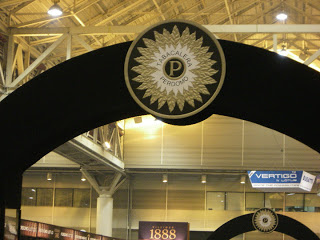 Nick Perdomo made an appearance on the Cigar Dave Show this past weekend. A lot of the big names were down in West Palm Beach, Florida at the Great Smoke. As is the case, Cigar Dave had many of these names join him on the show. The segment with Nick is always one I look forward to. Nick has a lot of passion for the industry and I always learn some new insights. It was on the show that Nick made an announcement on two new sticks.
Most of the information Nick provided was at a high level. You can listen to the segment here if you are interested in hearing it. Much of what I have here are my transposed notes from the segment.
First up, Nick announced the new Perdomo Champagne Noir. This is going to be a new addition to his highly successful 10th Anniversary line. My key takeaways from that segment are that this is going to be a Maduro wrapper and Nick describes it as an "amp'd up blend" . (to imply in my book, it will have some more strength and body than that the core Champagne line). He mentioned it would be available in a variety of sizes including a new 56 ring gauge. I found all of these things very appealing.
The second cigar has already gotten a lot of buzz in the cyberworld. This is the Perdomo Conmemorativo. Nick described this as one of his most full-bodied cigars he has. He mentioned they have made six different sizes, and while they plan on releasing five; he is still undecided on the sixth. He mentioned he will have four different filler blends. Nick described this as a rich full-bodied cigar like a nice filet. The launch will feature two different wrappers – a Connecticut Shade wrapper from Windsor, Connecticut and a triple fermented Maduro wrapper from Jalapa, Nicaragua. He mentioned this cigar was a 2+ year effort. The cigar should be in the $6.00 – $8.00 range. The interesting thing will be to see how full this will be in the Connecticut shade wrapper – I know it is quite possible.
Both cigars appear targeted for an early Spring release. Stay tuned here as I will post more details as I have them.