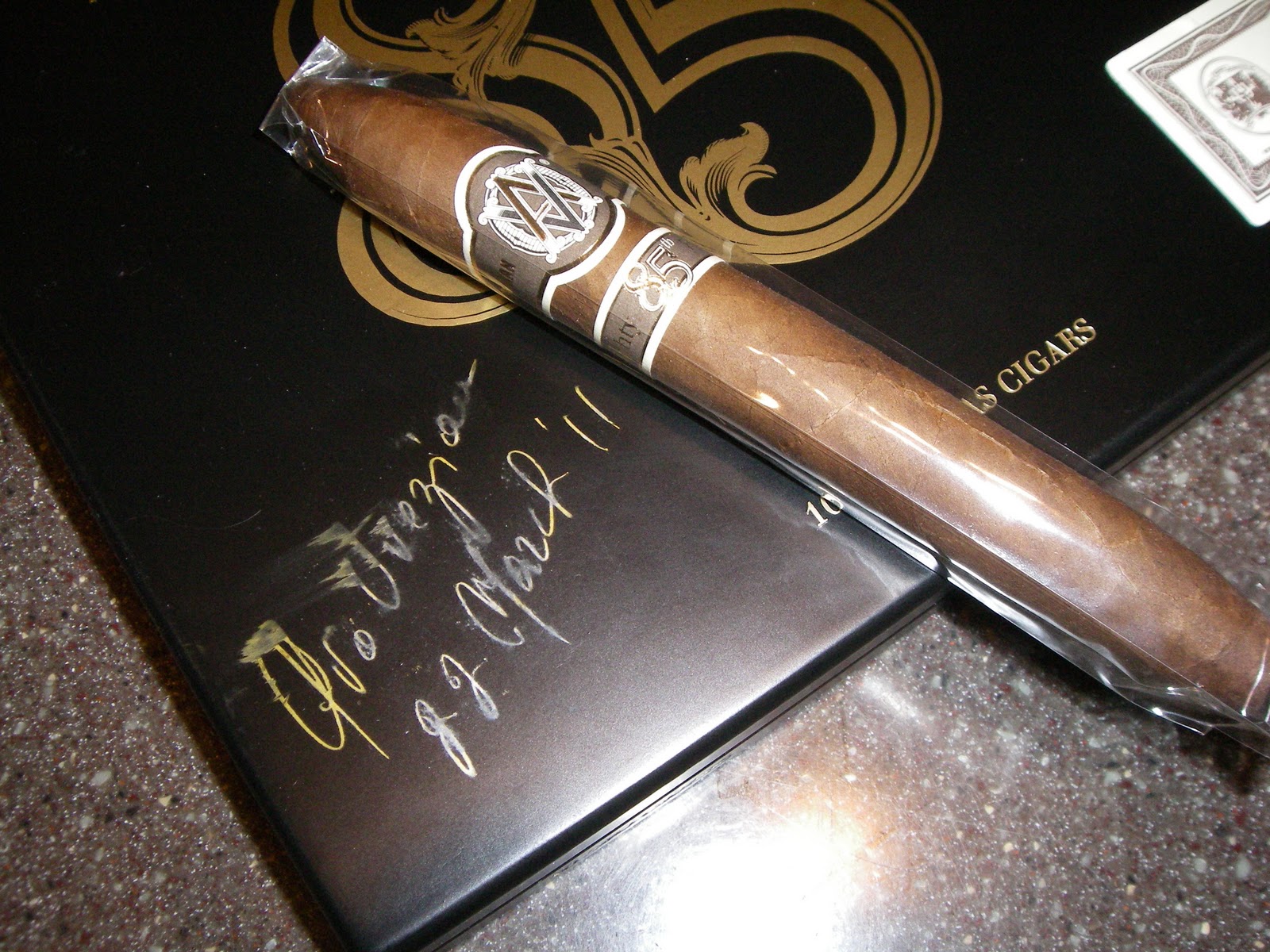 The time has come.   If you have followed my ramblings, you know I was a huge fan of the Avo LE10.  In fact, I named it my 2010 Cigar of the Year.  When talk of the Avo LE11 began hitting the internet,  I was excited.    There was no question – I had to try this cigar, I had to get this cigar.    I will admit, when I heard it was going to be a mostly Dominican blend, I was a bit skeptical.  However, there was no way I could turn my back on the sequel to my cigar of the year.   The wait is over – it is time to provide my assessment to the Avo Limited 2011 – 85th Anniversary.   The good news up front – this is another home run by Avo Cigars!
Starting with Avo's 75th birthday, Avo Cigars has done a limited release this year to commemorate Avo's birthday.  The 2011 is the 11th release of this series.  This one was meant to commemorate Avo's 85th birthday.  In fact, Avo is currently (at time of this writing) doing a world tour to celebrate his birthday as well as the release of the Avo LE11.
The cigars will retail for around $17.50 per cigar.  They will be sold in boxes of 10.   There have been 10,000 boxes allocated for this limited release and 6,000 will be targeted for the United States market.   Definitely a limited release.
I admit, when I get a new cigar, I normally put it into my humidor for 3 to 4 weeks.  I did not do this with my Avo LE11.   I figured at worst case I could do an initial pre-review.  However after smoking these, there was no doubt I was ready to provide an assessment.   I might follow this up later on with a second review as this cigar gets some more age.
Blend Profile
Once again, a very unique blend and like with the Avo LE10, the real uniqueness comes with the binder.   For the Avo LE10, it used a Mexican binder.   The Avo LE11 uses a Peruvian binder.  From a blend perspective, this one is completely different.  The fillers leverage many of the trademark tobaccos that Davidoff (Avo's parent company) is most famous for.
Wrapper: Dominican
Binder: Pelo de Oro (Peru)
Filler: San Vicente Visus, San Vicente Ligero, Piloto Ligero, Piloto Seco
Vitolas Available
The Avo LE10 is available in a single vitola – which is par for the Limited Edition series.  For the 2011 edition, they opt for a "Diadema" shape.  This is a 6.75 x 50 vitola – basically a perfecto (almost like a thinner salomon).  This seems a little shorter than what a Diameda is, but nonetheless it is a beauty.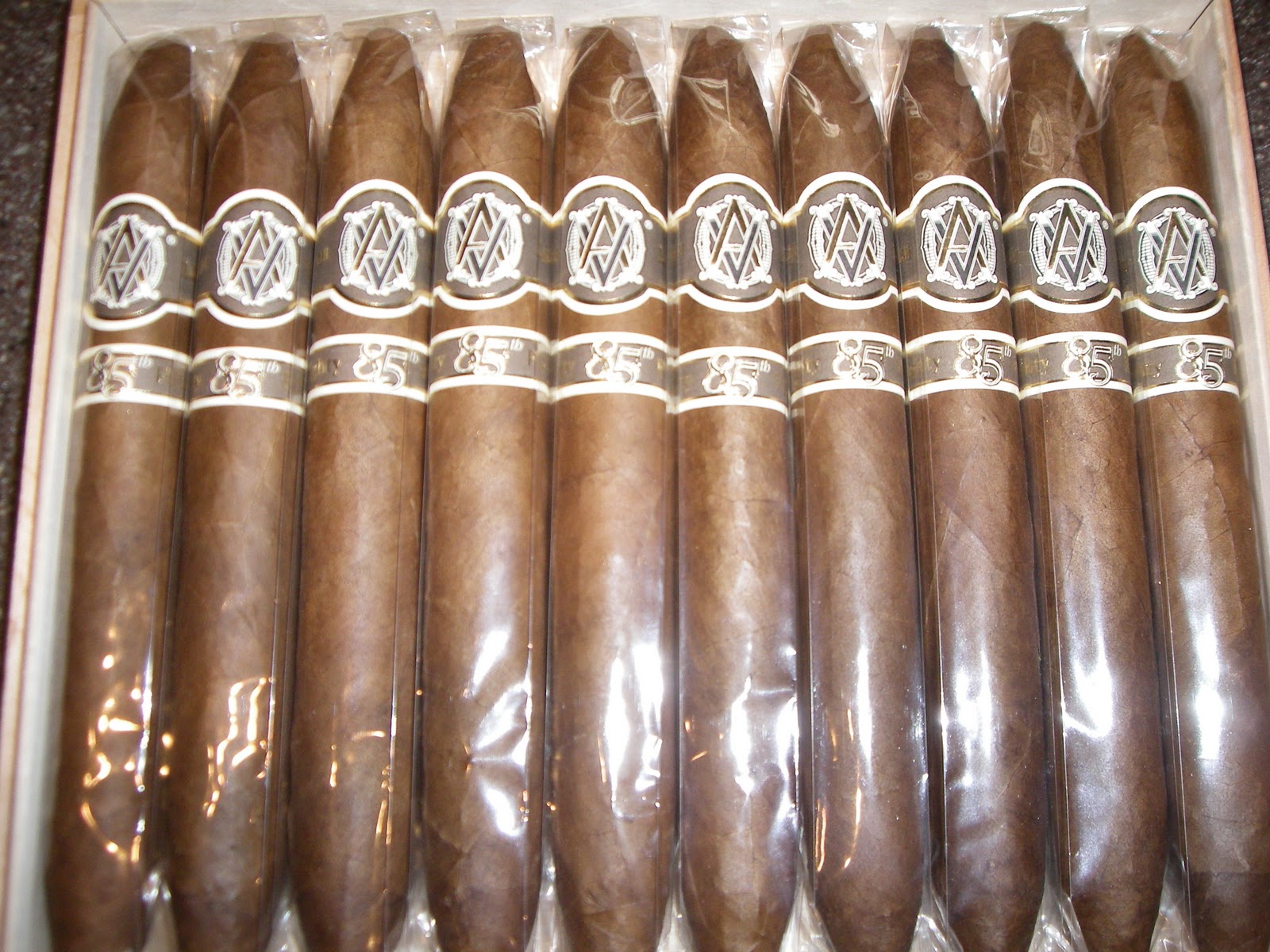 Preparation for the Cigar Experience
Like with any Avo Limited Edition, I always want to take TLC when I prepare to smoke one.  With the AVO LE11, I placed a straight cut into the tip of the diameda vitola.  It was then on to the prelight draw ritual.  The prelight draw gave me some real good hints of what was to come.   The LE11 definitely gave me sweet notes on the prelight – almost berry-like in flavor.   I had a little tough nailing the specific berry notes, – I want to say blueberry.  It was then on to toast the foot and prepare for the flavors of the smoke.
Flavor Profile
As I mentioned I smoked this cigar shortly after getting mine.   The initial notes were a combination of wood, nut, and the berry I sensed on the prelight draw.  I also got some hints of pepper at the start.  The pepper was not strong and it did fade early on,   From that point, the cigar settles into a nice mix of berry and wood.  As the cigar approaches the 1/3 point, the berry notes get more pronounced.  I also detected some nice char notes.  When I mention char, it's always referring to those nice flavors you get from a steak (and not harshness).   In that first third, I also could still detect some of the pepper notes through my nose.
While the berry sweetness was the most pronounced at the start of the second third, cinnamon begins to emerge.  In fact the berry flavors nicely (and smoothly) transition to a cinnamon sweetness as the cigar crosses the mid-point of the smoke.  It was also in the second half where the spices begin to emerge.  These spices were more of a baker's spice.
As the final third began, this cigar was a great example of why you should smoke a cigar to the nub.  The spices definitely become more pronounced.   There were definitely pepper notes now mixed in with the baker's spice.  The amazing thing is the cinnamon sweetness does not go away and in fact it really kicks up toward the end.   My nub was a little soft, but it was cool.   There was not one bit of harshness in the nub – this was smooth right until the end.
Burn and Draw
One disclaimer I make – I did not smoke this cigar under ideal conditions.  I had this cigar as my last one of the day (after attending a cigar event for Oliveros and then having a personal commitment at home).  The cigar experience happened just inside the front of my garage with the door open.  It was a windy night in Charlotte, North Carolina, so some wind did make it into the garage.  I make this claim because the burn and draw were completely amazing.   Add to the fact that I smoked my Avo LE11 shortly after getting it and that even makes it more amazing!   In other words, I got a flawless burn and flawless draw.  I did not have to re-light this cigar once.   The cigar burned razor sharp.   It burned at the perfect rate and did not burn hot.   No issues with the draw either – it was as good as it got.
Strength and Body
One thing that made the Avo LE10 special was that it was a "not your father's Avo" – it was a full strength and full bodied smoke.  The Avo LE11 goes back to Avo basics – this is not a cigar that is going to hit you from a strength perspective.  It is a solid medium strength smoke – more like the traditional strength I've seen from the Avo brand.
This cigar is a textbook study that you must differentiate flavor from strength.  When it comes to body, the majority of this smoke is in the medium to full range.  In fact toward the end, the flavor notes just creep into the full-bodied part.
Final Thoughts
This cigar lived up to all of the hype.   I've smoked more Avo LE10s than this at the time of the writing, so it's unfair to compare the Avo LE11 to my 2010 Cigar of the Year.   The Avo LE11 is a very different experience than the Avo LE10, but this is to be expected as its a completely different blend.   This is a high priced cigar, but it provides everything a cigar with a $17.50 SRP should provide.   I can only imagine this cigar getting better with age.    The Avo LE11 will definitely be a factor in my 2011 Cigar of the Year race.   Not only do I advise trying this, I recommend trying it soon.  I certainly would reach for this cigar again.  Finally, while I've really been sold on Nicaraguan tobacco over the past two years, Avo proves Dominican tobacco is alive and well.
The assessment was clearly "Memorable".   I don't ever assess "Historic/Hall of Fame" unless you win Cigar of the Year or are re-assessed when I select cigars for my Hall of Fame (I'll be doing inductions each October – more details to come).
Summary
Burn: Excellent
Draw: Excellent
Complexity: High
Strength: Medium
Body: Medium to Full (Full toward end)
Assessment: Memorable