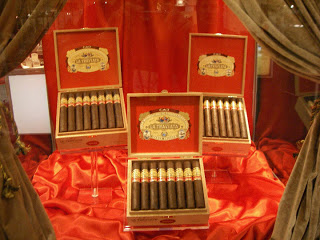 Things have been pretty quiet on the CAO front for 2011, but today Cigar Aficionado has reported some information around the brand. It's not huge news, but it's some news from the brand.
Cigar Aficionado mentions two key points made by CAO Senior Brand Manager Ed McKenna. First, all of the vitolas in the La Traviata line will be made available in the Habano (Natural) and Connecticut Broadleaf (Maduro). This was completed with the addition of the Animado (5 5/8 x 46) and Favorito (5 1/2 x 52) to the Maduro line. The timetable is end of May for these new Maduros to make their way into retailers by the end of May.
In the article, it is also mentioned that CAO is exploring a new La Traviata by year's end. There's no further word on that.
The La Traviatas have been favorites of mine. The CAO La Traviata was my #2 Cigar of the Year for 2009. The CAO La Traviata Maduro came in at #6 in my 2010 Cigar of the Year countdown.
The full article is here for further reference.