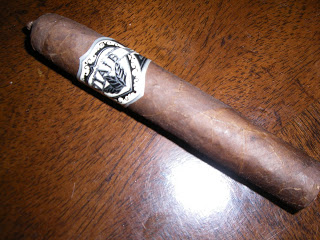 The Viaje Exclusivo Short is the latest vitola released under the Viaje Exclusivo line from Viaje Cigars. Viaje has garnered a reputation for not only releasing small micro-batches of cigars (I coin this term for under 500 boxes), but releasing one or two vitolas at a time (such is the case with their popular "Skull & Bones" line). While many have been critical of this approach – namely because it has made many Viaje cigars difficult to get, I applaud Viaje's Andre Farkas for putting in a creative business model. Viaje did not invent the limited edition cigar, but they have definitely taken it to an extreme. Ultimately the question becomes in my mind – "how good is this cigar and is it worth the hype?". I've seen hit or miss with Viaje. For this cigar, it wasn't a bad cigar – but it definitely has not knocked it out of the park like Satori or WLP Candela did.
While I'm not frustrated with the micro-batch releases, there is another point that I've been frustrated about Viaje. Often I find that there cigars are a little green when they are shipped to the retailers. This reflects in the ash (often more black) and the flavor profile. My rule of thumb now with Viaje has been that it has to go through an 8 to 10 week aging process in my humidor. One can argue that by that time, the cigar is off the shelves. However I'm more concerned with documenting my experience with this cigar on my web-site. It might cost me some page hits by waiting because the momentum is gone (and so is the cigar from retailers), but ultimately I feel I'm providing a more accurate assessment. Since I previewed this cigar in early March, I'm now at the point where that aging process in my humidor has made this cigar ready for prime time.
As for how limited this is – word is 100 boxes of 50 were produced.
Blend Profile
As with most Viaje cigars, the Exclusivo Short is a Nicaraguan Puro. Farkas often keeps the blend close to the vest, so you don't often get a lot of insights into the blend. With this case, a little more is known about the wrapper than with most Viaje's.
Wrapper: Nicaraguan Criollo
Binder: Nicaraguan
Filler: Nicaraguan
Vitolas Available
Well, I should rename this section to "Vitolas Made". The following are the vitolas for the Exclusivo blend. The Robusto was packaged in a jar.
Short: 4 1/4 x 42
Robusto: 4 7/8 x 50
Chiquito: 4 3/4 x 51
Double Edged Sword: 5 3/4 x 52
Tower Cigars 45th (Boxpress): 5 1/2 x 52 (Retail Exclusive to Tower Cigars)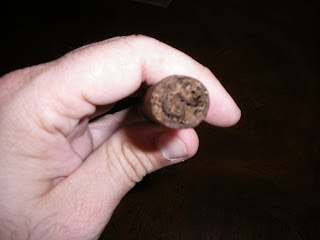 Foot of the Viaje Exclusivo Short
Preparation for the Cigar Experience
I will admit, small cigars are not something I prefer. This was probably the least desirable of the vitolas, but these are the ones I currently have. After putting a straight cut into the cap with a small pigtail, I was treated to some dry draws of wood, pepper, and a hint of citrus. While they didn't have a lot of depth, it was a little more complex than I expected from a pre-light draw on a small vitola. It was on to light and enjoy.
Flavor Profile
Don Pepin Garcia is known for a strong pepper blast at the beginning of many of his offerings. While Pepin did not blend the Exclusivo Short, this cigar provided a pepper blast that could stand up with any of Pepin's. The pepper notes were strong and were felt on the tongue and nose. In the background, the other note I got was of grass.
About 5 percent into the smoke, the pepper blast finally subsides and some of the citrus notes that I got on the pre-light draw were now along side the grass notes. Around 15 percent into the smoke of the Exclusivo Short, notes of wood joined the grass and wood. I also detected some sweet notes – these seemed unrelated to the citrus and it was very difficult to put my finger on it.
Around the 25 percent mark, the sweetness seemed to morph into more of a chicory flavor and by the 1/3 point, I detected some hints of cinnamon as the citrus faded into the background. During this time the grass and wood notes are very much present. The pepper does return in the second half, but is not nearly as pronounced as earlier on. The finish to the cigar was a little harsher than I would have liked. The nub was cool, but extremely soft.


Burn and Draw
I found the 8 to 10 week aging process worked extremely well in this case. I was treated to a nice white ash that was tight. The burn was very sharp. While the nub was very soft at the end, the burn was not hot – and it burned at a very good pace. The draw was solid on this one – no major issues.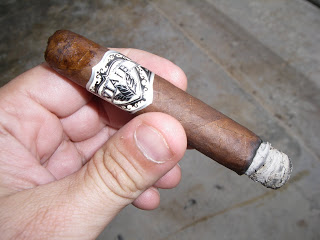 Ash and burn of the Viaje Exclusivo Short
Strength and Body
I've heard some people say this is a full strength and other people say it is a medium strength. While it might seem the easy way out to say this is medium to full in strength, it is the right answer here. As for the body, the early pepper blast was definitely full-bodied, but then the cigar settles into a medium to full for the remainder of the smoke.
Final Thoughts
The finish to this cigar was disappointing and it definitely takes it down a few notches – especially since this is such a short smoke. Even if the nub was not harsh and soft, I'm not sure this cigar would have made it to a "Memorable" assessment. The price point is around $8.00 and I'm going to want a lot more tobacco with a lot more wow for that price – so I'm hesitant to pay that again. Taking price out of the equation (which I do when I assess), there was still enough complexity and flavors to make it into the "Nice to Have" range.
Summary
Burn: Excellent
Draw: Good
Complexity: Medium
Strength: Medium to Full
Body: Medium to Full
Assessment: Nice to Have
Disclaimer: The cigars for this experience described in this assessment were purchased at Outland Cigars in Charlotte, NC