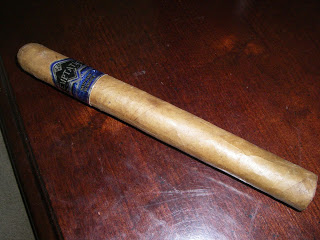 JD Temptation Habano Claro
One rule of thumb I have consistently said when it comes to Indie Cigars is that it must do two things: 1) Bring something special to the table; 2) Have the ability to push something out of a retailer's humidor. For the past couple of months, I've been hearing a lot of good things about JD Cigars' Temptation line that fit the mold of a good Indie cigar. I've had an opportunity to sample some of the cigars in this line. The first blend I sampled was the JD Temptation Habano Claro and I'm pleased to report this is clearly a cigar that falls into the category of a special Indie Cigar.
One thing that impressed me about JD Cigars is how they provided detailed information on the company and the cigars. The company was founded by David Insignares and Jorge Gil. Insignares and Gil have a great deal of experience in the cigar industry. Insignares operates out of Miami, Florida while Gil is a master grower who operates tobacco farms in Esteli Nicaragua. They are very proud of the fact the employ several "Grade 9" torcedores (i.e. rollers – with Grade 9 being the highest level that is achieved).
The initial release by JD Cigars is called the "Temptation". The cigars are available in a Claro and a Maduro. This review will focus on the Claro blend.
Blend Profile
The Temptation Habano Claro uses a classic Ecuadorian Shade wrapper. The wrapper is striking and makes for one beautiful cigar.
Wrapper: Ecuador
Binder: Nicaragua
Filler: Nicaragua
Vitolas Available
The Temptation Habano Claro is available in five vitolas:
Double Toro: 6 x 60
Churchill: 7.5 x 50
Salamon: 7.25 x 58
Robusto: 5 x 50
Lancero: 7.5 x 38
Preparation for the Cigar Experience
For this cigar experience, I selected the Churchill. I opted to place a straight cut into the Temptation Habano Claro. When I took some dry draws from the cigar, I got a nice mix of cream and wood. Overall, it was a very pleasant pre-light draw. Therefore, I was excited to fire this up and begin the smoking experience.
Flavor Profile
The initial notes of the Temptation Habano Claro continued with the cream and wood notes I got on the pre-light draw. It did not take long until there were some nice toast notes that complemented the cream and wood. This made for a very pleasant start to this cigar.
The cream notes provided an interesting twist as the cigar progressed through the first third The cream notes soon took on more of a milky tone. These milky notes actually moved to the forefront of the flavor profile. It was interesting because someone who was with me while I was enjoying this cigar commented on the unique aroma of this cigar – namely he was able to smell some of the milk notes in the aroma.
Around 20 percent, the wood and toast notes pick up a little more intensity again and begin to balance the milk/cream notes. This balance made for some great flavor and it made up for the majority of the profile for this smoking experience. In the last third, there was a little spice that I picked up and this made for a great finish. For a Churchill, this cigar was great until the end – and it even provided a great nub that was both cool and firm.
Burn and Draw
For a Churchill that smoked almost 90 minutes, this cigar had one outstanding burn. There were few touch-ups that were needed, but nothing major. The cigar did not burn hot and it burned at a nice rate. The draw was a little tighter than I prefer at times, but it was still a good draw. I really didn't have to fight to puff the this cigar.
Strength and Body
With Ecuadorian Shade wrappers, I don't expect a nicotine rush and with the JD Temptation Habano Claro, there were no surprises – namely this was a mild smoke from strength perspective. As for body, while I did classify some of the cream/milk notes in the first third as medium, the majority of this smoke definitely fell more into the mild to medium range.
Final Thoughts
While I normally don't gravitate to mild/mild to medium smokes in terms of strength and body, I did enjoy this cigar. The unique cream/milk flavors were something different. In addition, this smoke was smooth from start to finish. This was a cigar I wanted to take to a small nub and was able to do so. The Churchill vitola made for a nice long morning smoke. While novice enthusiasts will enjoy this smoke, a seasoned cigar enthusiast who doesn't want something heavy will also enjoy this. This is definitely a cigar I'd buy and recommend.
Summary
Burn: Excellent
Draw: Good
Complexity: Low
Strength: Mild
Body: Mild/Medium (some medium in first third)
Assessment: Nice to Have
Disclaimer: This cigar was provided to myself from JD Cigars. The request was initiated by JD Cigars to myself (Cigar Coop) to provide an assessment. Cigar Coop is appreciative to samples provided but this plays no role in a final assessment rating.