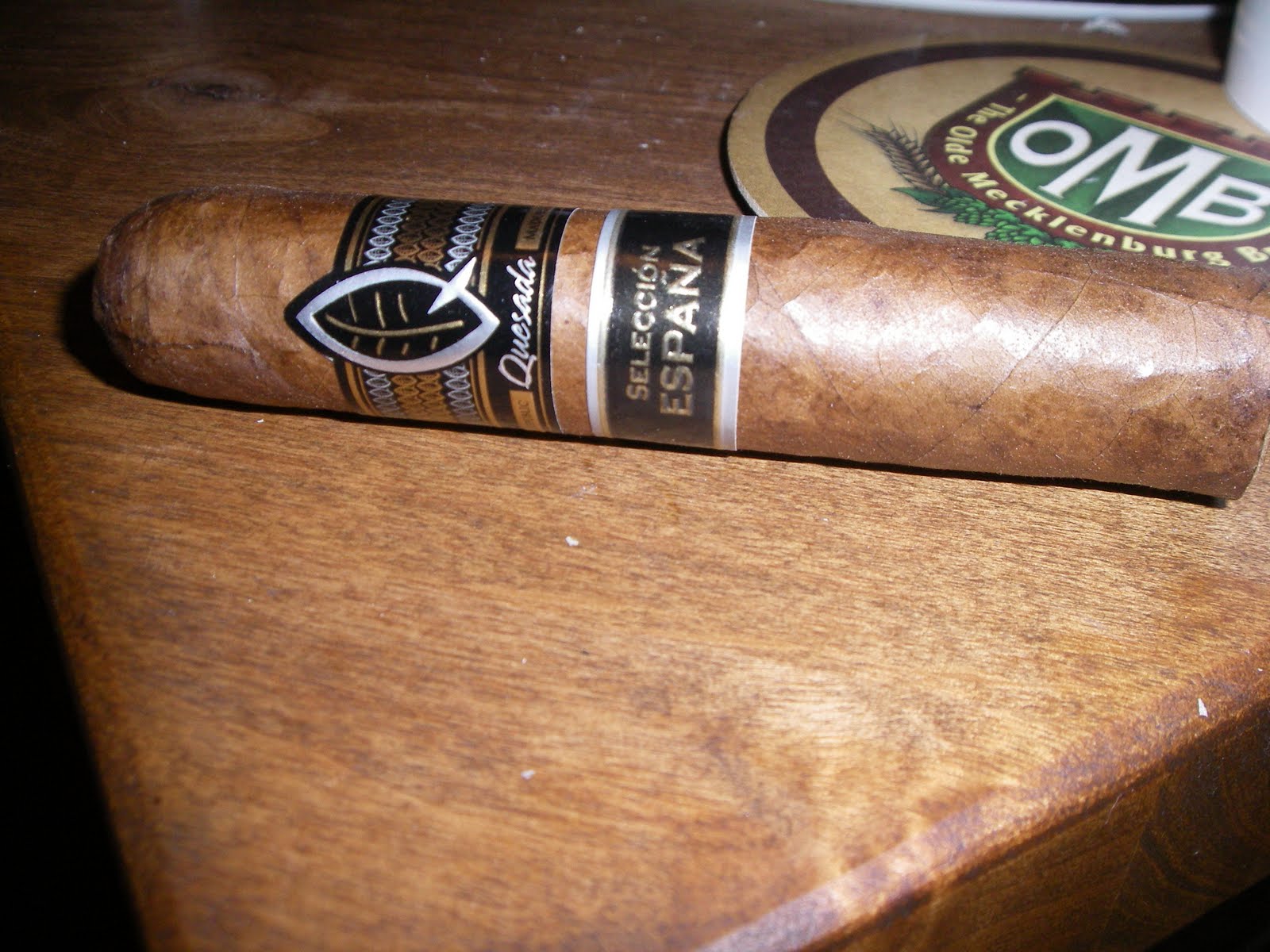 This past February at the annual ProCigar festival in the Dominican Republic, one of the cigars that made a big splash was the Quesada Seleccion Espana.  The Espana as indicated by its name is a cigar that was intended to be made available only available in Spain.  Legendary Master Blender Manuel Quesada dropped by Outland Cigars for an impromptu visit and I was lucky enough to be offered a sample of this cigar from his brand.   I was more than thankful to get an opportunity to enjoy a cigar that is difficult to get and has gotten such positive attention.   The great news – this cigar lives up to much of the hype that surrounds this cigar.
When Quesada discussed the cigar, he portrayed it as being "Cuban-esque" in style.   Cuban cigars are sold in Spain and do very well in that market.  The idea was to bring an old-school cigar to Spain to compete with the Cuban cigars.
Let's take a closer look at what the Quesada Seleccion Espana brings to the table:
Blend Profile
The appearance of this cigar is highlighted by the beautiful Arapiraca wrapper.
Wrapper: Arapiraca (grown in Ecuador)
Binder: Dominican
Filler: Dominican, Connecticut Broadleaf, Nicaraguan
Quesada talked about the wrapper.  He mentioned this is a similar wrapper to what is on the Quesada 35th Anniversary cigar.   The difference is the wrapper is taken from a lower priming (viso).   Quesada described the filler as all-Dominican, although I have seen some references mention that there is also Nicaraguan tobacco in the filler.
Vitolas Available
The Espana is available in three sizes:
Petite Robusto- 4 x 50
Robusto- 5 x 52
Corona- 5.5 x 42
These are definitely smaller cigars.  Quesada mentioned that the smaller vitolas were a deliberate attempt to capitalize on the European market.  In general, Europeans prefer smaller cigars.
Preparation for the Cigar Experience
For this cigar experience, I sampled the Petite Robusto.   I placed a straight cut through the beautiful cap.  The initial notes I got on this were coffee, but there was a slight sweetness and slight pepper notes that I detected as well.  There was a subtle mix of flavors from the dry draw that satisfied me.   It was then on to fire up the Espana and enjoy the smoking experience.
Flavor Profile
While I heard some reports that this cigar had a lot of flavor transitions, I didn't get that.  The Quesada Seleccion Espana wasn't the most complex cigar, but it did offer up a very interesting flavor profile.
The initial notes contained some pepper and cedar spice, but I was also treated to some significant notes of tea.   The tea flavors reminded me a lot of the signature tea notes found in Illusione cigars.  For the first half of the cigar, this was the flavor profile that pretty much held.  The spice notes mellow a bit after the first ten percent, but still are very much present during the smoke.
In the second half, I did notice an increase in the spice – and this time it took on more of a pepper spice.  Overall, the Quesada Seleccion Espana had a little kick and I liked it.   As the cigar experience came to a close, I got a wonderfully small nub that was cool and firm.   There were no harsh notes at the end.
Burn and Draw
Construction-wise, this was one of the best Quesada/Fonseca cigars I ever had.   The burn was razor sharp and required very few touch-ups.   The burn rate and burn temperature were perfect.   The draw was outstanding as well .
Strength and Body
This cigar had more strength than I would have thought from looking at it – and I was pleasantly surprised by this.  It has just enough power from the nicotine to qualify as a "Medium to Full" in terms of strength.  The same goes for the body.   The flavor notes had some nice depth to them – and I would definitely classify this as Medium to Full.
Final Thoughts
The Quesada Seleccion Espana proved to be a positive cigar experience.   I sincerely hope that Quesada does give some consideration to making this more widely-available in the United States.  I do think this is a cigar that probably the more seasoned cigar enthusiast will appreciate.   I would definitely reach for this cigar again – and look forward to trying the Robusto and Corona vitolas.
Summary
Burn: Excellent
Draw: Excellent
Complexity: Low
Strength: Medium to Full
Body: Medium to Full
Assessment: Nice to Have
Disclaimer:  This cigar made given to me as an unsolicited sample during a visit by master-blender Manuel Quesada.   This played no role in final assessment given to this cigar.