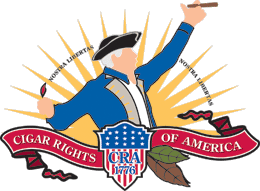 One area I feel is important for this web-site to focus on is tobacco legislation. It is important that everyone keeps a close eye on this While some legislation might be outside your local jurisdiction it has an impact to all tobacco and cigar enthusiasts nationwide. No doubt, 2011 is already a challenging year with fights on many fronts. The good news is Cigar Rights of America is not backing down and is keeping the fight going. While the battle might seem like pulling endlessly on a rope, there are victories being won. Over the past week two significant victories have been won in the States of Delaware and Nevada.
While these wins are great news for all cigar enthusiasts, the fight must continue as new fires will most certainly emerge in other areas of the country.
Delaware
When HB 178 was sponsored by Representative Michael Barbieri, it proposed a raising of the OTP (Other Tobacco Product) tax on cigars from 15% to 68% percent – a whopping 453% percent.
A big thank you to Gary Griffith of Delaware Cigars. Griffith is as passionate about this industry as anyone I have seen. In addition to being a world-class tobacconist, Griffith serves as a CRA Ambassador.
With three days notice, Griffith led the charge down to Dover, Delaware and the good news is that HB 178 was tabled. This is great news, but this also is a case where the eye cannot be taken off the ball. If this should resurrect itself next year, cigar enthusiasts need to be prepared to go to battle again.
Hopefully the legislators in Delaware can see the damage cigar tax increases have done in other States like New York and quickly dismiss this bill should it resurrect again.
Here is a link to the CRA site with more information including those legislators who co-sponsored the bill.
Nevada
AB 571 was signed into law by Nevada Governor Brian Sandoval. This law allows for free standing bars and restaurants in the state to allow smoking should they choose to do so – as long as patrons under 21 do not enter the establishment. It's not ideal, but its a huge step in the right direction. Sandoval signed this bill after it passed through the Nevada State House and Nevada State Senate.
Anti-smoking regulations are crippling businesses nationwide – especially bars and restaurants. Nevada has been a state that has really taken it on the chin in terms of the recession. The signing of AB571 into law will surely help a lot of small business in that State. More States need to follow Nevada's lead.
Here is a link to the CRA site with more information including how the legislators voted on this.