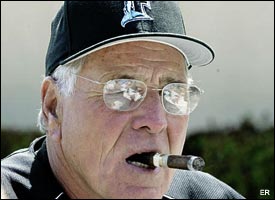 Jack McKeon with a cigar – photo linked from ESPN
Today, Jack McKeon was named the interim manager of the Florida Marlins. For Cigar Enthusiasts around the world, this is a great thing.
First up, I will state from a baseball perspective, I am a huge fan of the Philadelphia Phillies. The Florida Marlins play in the NL East with the Phillies and have been known to give us fits from time to time. Yet, there is no one who wishes more success for Jack McKeon than myself.
Why am I taking this position? It's very simple – Jack McKeon LOVES CIGARS. When someone loves cigars, it doesn't matter what allegiance to a team they have. Anyone who loves a good cigar is good for the cigar industry.
A few years ago, ESPN's Darren Rovell did a great article on McKeon's love of Cigars. I encourage everyone to read this article entitled "Smoke 'em if you got 'em".
Cigar Aficionado also has a great article from 2004 on McKeon.
I sincerely hope that McKeon will still be visible with his cigars. It's been several years since he's managed and the Pleasure Police have made great strides in preventing cigar enthusiasts like McKeon from enjoying cigars around the ballpark. (Remember the Pleasure Police in Cincinnati last year?) Still the cigar community today must rally behind McKeon and let him know we appreciate what a great ambassador he is to this industry.
The article talks about how McKeon has smoked cigars for 55 years (and now its well over 60 years since the article is dated). Yet, McKeon now 80 years old is healthy and ready to take the reins of the Florida Marlins.
Just don't win too many games for the Marlins Jack…..