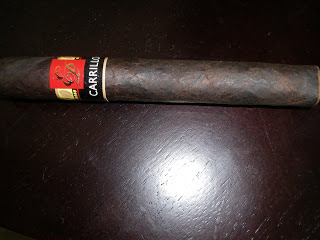 E.P. Carrillo Core Line Maduro – Club 52 Vitola
Back when Ernesto Perez-Carrillo Jr. was with La Gloria Cubana, one of my favorite cigars he blended was the La Gloria Cubana Serie R Maduro. That cigar has become one of my favorite "go to" cigars since I became a cigar enthusiast. Earlier this year, when Perez-Carrillo's own company E.P. Carrillo announced plans to release a maduro blend, I was very excited. With the 2011 IPCPR trade show now a week away, E.P. Carrillo is getting ready for the launch of their maduro blend. This cigar will be a core line (as opposed to a limited release) and will be referred to as the "E.P. Carrillo Core Line Maduro". I recently got to smoke a pre-release sample of this cigar. E.P. Carrillo has been hitting home runs in 2011 with some great cigar releases. Once again, E.P. Carrillo drives one over the fence for a home run because the Core Line Maduro is outstanding.
A few days ago, I received a sample containing this new blend. Normally I like to give my samples a little time to age a bit. However, given I was excited that a maduro blend was joining the E.P. Carrillo family, I could not wait. The great news, this cigar delivers out of the gate – and will even get better with age.
Blend Profile
Back when I previewed E.P. Carrillo's new releases for 2011, I mentioned that EPC was looking at two wrapper options for the Core Line Maduro – namely either a Connecticut Broadleaf or a Mexican wrapper. Both options lend itself very well to the maduro curing process. The decision was made to go with the Connecticut Broadleaf.
As for the binder and filler, this is not the current E.P. Carrillo Core Line (natural) with a maduro wrapper on it. This cigar also uses a different binder – namely Ecuadorian Sumatra.
Wrapper: Connecticut Broadleaf
Binder: Ecuadorian Sumatra
Filler: Nicaraguan/Dominican
Vitolas Available
Back when I previewed the new offerings, I had heard on Cigar Dave that there would be four vitolas. The good news is that for the E.P. Carrillo Core Line Maduro there will be 8 size offerings. All of the Core Line Maduro offerings mirror the Core Line Natural offerings. This includes three new vitolas being introduced on the Core Line Natural line. The names of the vitolas for the maduro offerings are the same as for the natural offerings.
Churchill Especial: 7 1/8" x 49
Club 52 52: 5 7/8" x 52
Encantos: 4 7/8" x 50
Golosos: 6.25″ x 60
Predilectos: 6 1/8 x 52 (Torpedo)
Regalias: 5 5/8 x 46
No.4 Corona: 5 1/8 x 42 (A new size also on the E.P. Carrillo Core Line Natural)
Monumentos: 7 3/8 x 56 (A new size also on the E.P. Carrillo Core Line Natural)
Real Corona: 5 5/8 x 46 (A new size also on the E.P. Carrillo Core Line Natural)
Preparation for the Cigar Experience
For this smoke, I opted for the Club 52 which is basically a Toro-sized cigar. I went with my usual straight cut into the cap. As I started the pre-light draw, I was blown away. This was definitely the best dry draw I had seen on an EPC cigar. The flavors on the pre-light draw were a combination of chocolate, coffee, and raisin sweetness. I knew at this point I made the right decision not to wait to smoke the samples I received. It was on to fire up the Core Line Maduro and see what else was in store.
Flavor Profile
The initial draws of the Core Line Maduro continued the wonderful flavors I got on the pre-light draw, but added some new twists. I picked up some additional notes of toast, cinnamon, molasses, and baker's spice. As the cigar settled in, the chocolate notes morphed into some classic espresso coffee notes.
About 5 percent into the cigar, the raisin sweetness took on more of a flavor of dry-mixed fruit. The flavors that would be in control would be the espresso, dry-fruit, and the baker's spice. As the smoke progressed, these three main flavors would alternate at several points on which flavor would be the main one. At the same time, these three flavors complemented each other very nicely. By the last third, the espresso notes morphed to a baker's cocoa flavor.
As the cigar experience came to a close, I got a nice nub on it. It was a little soft, but it was not hot. Best of all, the great flavors of this cigar were smooth right until the end. There was no harshness whatsoever on the finish.
I liked how this cigar balanced the spice with the other flavors. While there were times the baker's spice was in the forefront, it never overpowered the other flavors this cigar had to offer.
Burn and Draw
For the most part, this was a very good burn. It did require a few touch-ups, but it wasn't too much of a fight to keep the burn straight. The burn rate and burn temperature were more than satisfactory. The ash on this cigar was more of a dark gray and this was probably because I had just received this sample. I'm pretty confident if I smoked this in another 6 weeks, it would have been a classic white ash.
The draw was outstanding. E.P. Carrillo cigars always are top-notch in terms of getting a good draw. The Core Line Maduro was no exception.
Strength and Body
One thing I am noticing in 2011 is that a lot of maduro cigars have been released that are not overwhelming when it comes to nicotine strength (and are more "medium" in terms of strength). This should not be considered a negative as I have found these cigars to be great experiences. The E.P. Carrillo Core Line Maduro has more of the classic profile of strength from a maduro. It definitely is Medium to Full and toward the end, this moves into the full-strength category. Overall, I liked the strength profile of Core Line Maduro a lot.
As for body, the flavors are deep and robust. This is a full-bodied smoke from start to finish.
Final Thoughts
There are a lot of people that I know who love a good maduro. There is no doubt I would put this cigar in their hands because this blend stands up with the best of what's out there. Since this is a pre-release, I have held off on a final assessment, but all indications are that this cigar will be high on my list of top cigars for 2011. With a little more age, this might be contending for my #1 spot. As is, this cigar was still outstanding. I probably would recommend this for a more seasoned cigar enthusiast, but wouldn't hesitate on letting someone who is looking to gravitate toward maduro cigars give this a try. I'd buy this again and recommend this to others.
Summary
Burn: Good
Draw: Excellent
Complexity: High
Strength: Medium to Full (Full toward the end)
Body: Full
Source: This cigar was provided to myself from E.P. Carrillo. The request was initiated by E.P. Carrillo to myself (Cigar Coop) to provide feedback. Cigar Coop is appreciative to samples provided but this plays no role in a final assessment rating.