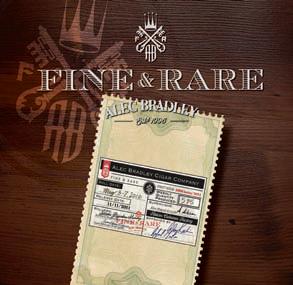 At the 2011 IPCPR, Alec Bradley unveiled a cigar that I would categorize as an ultra-premium This cigar is called the "Fine and Rare". While most of the details of the blend have not been disclosed, we do know that the Fine and Rare utilizes ten different tobaccos in the blend.
Each box will also contain the signatures of the rollers, factory supervisor as well as Alan Rubin and Rafael Montero from Alec Bradley. This is becoming a trend that we are seeing a lot in the cigar industry – the personalization of the people behind the product.
The plan is for a targeted production run of 1,111 boxes. One thousand of these 1,111 boxes contain ten Toros (6 x 52). each. There are also a hundred
20-count boxes that come with 10 Toros and 10 Torpedos. The remaining
11 boxes will be reserved for charity (distributed at the discretion of Alan Rubin). These are 30-count packages holding 10
Toros, 10 Torpedos and 10 Perfectos. The Toro will have an SRP of $14.00
Blend Profile
Here is what I do know about the blend. As you can see the total tobaccos add up to 10.
Wrapper: Honduras
Binder: Honduras, Nicaragua (Double Binder – contains two leaves for binder)
Filler: Unknown – but contains seven leaves of filler
Click here for our detailed assessment of this cigar.


Updated 11/14/11: Includes country of origin for binder leaves.
Update: 10/27/11: Word is the final count of the boxes will be 1,111. The plan is also to start the official release of this cigar on 11/11/11.
Update: 12/27/11: Corrected boxes and vitolas.