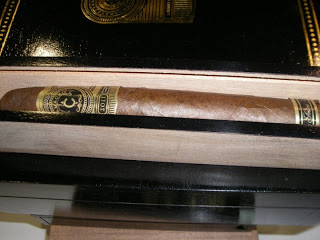 Camacho Liberty 2011
At the 2011 IPCPR, outside of Matt Booth's Room 101 line, it was a pretty quiet year for the core Camacho Cigars line. However, Camacho did unveil their annual release in the Liberty series – the Camacho Liberty 2011.
The Camacho Liberty series follows a micro-batch concept. Each year Camacho releases a limited number of a cigar blended specifically for the year in a single vitola. Each individual cigar is put into its own individual coffin-like box and numbered. From year to year the blend and design of the stick changes. Certain year editions are more sought after than others.
The Camacho Liberty 2011 is in Camacho's 11/18 Perfecto size – a 6 x 48/54. There will be 2000 boxes of 20 coffin-packaged boxes for a total of 40000 cigars.
Blend Profile
The Camacho Liberty 2011 is an all-Honduran puro mostly from Honduran tobaccos:
Wrapper: Honduran
Binder: Honduran
Filler: Three unique countries (Information believed to be Honduran, Dominican, and third country)
I've seen these start to appear on some online stores already. From a personal standpoint, I'm a huge fan of this series, so I'm anxious to try this.
Update (10/22/11): This is not a Honduran puro as previously reported.