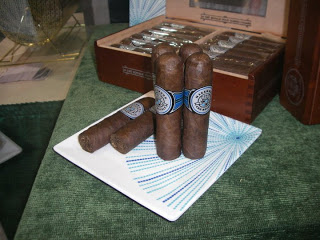 Macanudo Cru Royale Poco Gordo
At the 2010 IPCPR, Macanudo introduced two new blends to their line – Macanudo Vintage 1997 Maduro and the Macanudo Cru Royale. These cigars continued a trend started back in 2008 when Macanudo introduced the Macanudo 1968 – bring cigars in the medium and full range into their portfolio. The Macanudo Cru Royale marked an entry into the medium strength, medium body standpoint. With master blender Benji Menendez involved in the product, the Cru Royale managed to snag the #30 spot in my Top 30 Cigars of 2010.
At 2011 IPCPR, General Cigars and the Macanudo brand showed their commitment to the Cru Royale as two new vitolas make their debut:
First up, Macanudo Cru Royale will be the latest blend to join the small-sized premium cigar market. The Macanudo Cru Royal Court will be a 4 3/16 x 36 vitola that will be sold in tins of five. This cigar should make its way into retailers in the November timeframe.
Secondly will be a new 4 x 60 sized cigar known as the Macanudo Cru Royale Poco Gordo. From the size, this cigar is definitely meant to appeal to the large gauge "Nub" size cigar enthusiast. The timetable for this new vitola is expected some time this month. (August 2011).
I'm anxious to sample the new Poco Gordo. I'll have more feedback in the future on this.