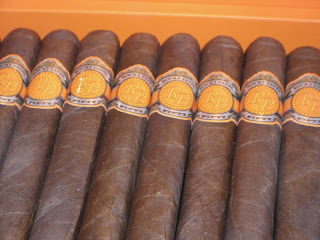 Rocky Patel Fifty
Probably the most anticipated cigar being released by Rocky Patel Premium Cigars is the Rocky Patel Fifty. At the 2011 IPCPR, these cigars were on display.
This cigar has been in the works for some time and is coinciding with Rocky Patel's 50 birthday – which occured earlier this year. Word is the cigars were a four year body of work involving tobacco that has been aged for eight years.
This is intended as an limited run and ultra-premium line for Rocky Patel. There will be only 2000 boxes of each vitola produced. Each box will also be individually numbered. The price point is going to be between $19 to $22 SRP – depending on the vitola size. The boxes will be adorned with orange crystal on a custom plate – one on the inside of the box and one on the outside (see below for the inside plate with the crystals).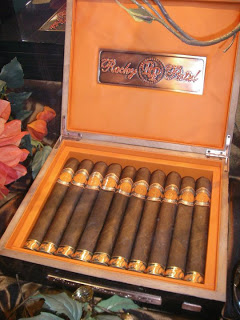 Rocky Patel Fifty
Blend Profile
Much of the details of the blend are being kept confidential, and no word if the details will ever be disclosed. The Ecuadorian Habano Oscuro comes from the seventh priming of the plant. The binder will be a double-binder -origins unknown.
Wrapper: Ecuadorian Habano Oscuro
Binder: Unknown (Double binder)
Filler: Nicaraguan (Proprietary)
Vitolas Available
There will be three vitolas available:
Robusto: 5 1/2 x 50 (SRP $19.00)
Toro: 6 1/2 x 52 (SRP $21.00)
Torpedo 6 1/8 x 52 (SRP $22.00)
Word is that these will be medium to full bodied. I'm anxious to try a few of these, so stay tuned for more details on this one.
Update (11/15/11): Click here for my assessment on the Rocky Patel Fifty.