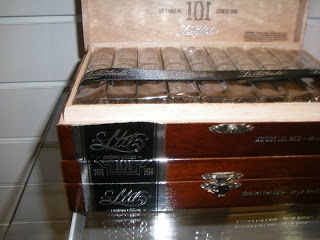 Room 101 Conjura Edition – Papi Chulo
At IPCPR 2011, when I visited to Matt Booth's "booth" at Davidoff, he gave us an insight into a new line extension to the Room 101 Conjura Edition as well as what is in store for that particular blend's line.
A new vitola is being added to the Room 101 Conjura line – the Papi Chulo. This vitola will measure 4 x 42. It will still contain the same blend as the other vitolas inthe Conjura line – a Honduran Rosado wrapper, Honduran binder, and Dominican/Nicaraguan filler.
While the Room 101 Conjura edition was intended to be a limited release, Booth said based on demand things will change making this more of an annual limited production release. In other words, Conjura will continue to be available, but only limited quantities will be made each year. This makes it possible for Booth to do what he did this year – namely introduce a new vitola into the line.
This line extension joins the introduction of the Room 101 Connecticut and Room 101 Namakubi making its debut at the 2011 IPCPR.