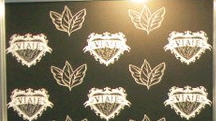 I've mentioned this several times, while Viaje's Viaje Oro Reserva VOR #5 received Cigar Aficionado's top honor as the top non-Cuban cigar for 2010, it is Viaje's Skull and Bones series which typically is the most sought after by cigar enthusiasts. Viaje has just shipped its fifth release of this popular series to its retailers. This one is being called "Mystery". As always is the case with Viaje, we don't know a heck of a lot about this particular blend.
This release cycle features two short torpedo vitolas – including one box-press (a first for this series).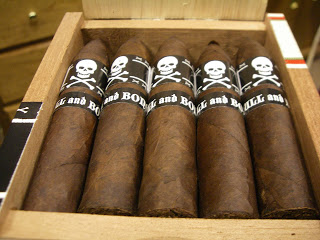 Viaje Skull and Bones Mystery
Viaje Skull and Bones Mystery Box-Press
Blend Profile
For the first two release cycles, the Skull and Bones was banded with a black and white band. The third and fourth release cycles feature a red and black band. The band colors are not the only difference as the red band (third and fourth release) cycles feature a blend variation that is stronger than the first two release cycles. This fifth release cycle goes back to black and white bands – although the boxpress is mostly a black band. I cannot tell you whether or not these are the blend of the first two release cycles, the last two release cycles, or something different. This will be up to us as cigar enthusiasts to figure out.
Wrapper: Nicaraguan
Binder: Nicaraguan
Filler: Nicaraguan
Vitolas Available
Here is a summary of the five release cycles. The fifth release cycle (Fall 2011) refers to the Skull and Bones we are previewing here.
First Release Cycle (Spring 2010)
Daisy Cutter: 4 x 54
Second Release Cycle (Fall 2010)
#2: 4 1/2 x 54
Third Release Cycle (Spring 2011)
WMD (Weapon Mass Destruction): 3 3/4 x 54
MOAB (Massive Ordinance Air Blast): 4 1/4 x 54 (Torpedo)
Fourth Release Cycle (Summer 2011)
Little Boy: 4 1/4 x 52
Fat Man: 4 1/4 x 56
Fifth Release Cycle (Fall 2011)
Mystery 4 1/2 x 54 (Short Torpedo)
Mystery Box Press 4 1/2 x 54 (Short Torpedo Box-press)
I will have more information about the smoking experience in the near future.