TORAÑO FAMILY CIGAR CO. TO GIVE AWAY 25 WINE REFRIGERATORS AND A GRAND PRIZE TRIP TO ARRINGTON VINEYARDS IN NASHVILLE, TENNESSEE
October 4, 2011—Torano Family Cigar Co. has partnered with Arrington Vineyards for a spectacular contest that combines two of the finer things in life: premium handmade cigars and award winning wine. This contest awards 25 lucky winners a stainless steel wine refrigerator that holds twenty-four bottles of wine and qualifies them for a Grand Prize trip to Arrington Vineyards in Nashville, Tennessee.
The idea for this exciting collaboration sprung from the personal relationship between Bruce Lewis, Torano's VP of Sales and Marketing, and Kip Summers, the winemaker and one of Arrington Vineyards' partners with Kix Brooks (of Brooks & Dunn fame). Lewis and Summers have had a mutual admiration for each other's respective industry for a very long time. The scenic beauty of the vineyards, coupled with an array of incredible wines, has led to many cigar smoking occasions at Arrington. Torano Family Cigar Co. wanted to share this special experience with one of its consumers.
Torano Family Cigar Co. is ready to award 25 Torano branded wine refrigerators in a raffle at select stores around the country. The wine fridge promotion will last for thirty days at each store and will culminate in an end of the month grand event to award the wine refrigerator. Torano will offer unique merchandise and specials at each store during the month long promo. The most unique item is a bottle of Arrington Vineyards-Torano Antebellum private barrel reserve wine. This Torano private label wine was created by Arrington Vineyards and was made specifically to compliment the fine cigars created by the Torano family. This distinctive wine has been aged for 16 months in oak wine barrels then aged a further 6 months in Tennessee whiskey barrels. The pairing of Torano cigars with the Arrington Antebellum can be experienced only at select tobacconists.
The grand prize trip to Nashville, Tennessee will be an all-expense paid weekend experience that will feature a grand tour of the Arrington Vineyards facility complete with a tasting of their exquisite wines. The contest winner will be treated to a gourmet lunch on the outdoor bistro tables overlooking 75 acres of sheer beauty. The contest winner will enjoy some of Torano's finest cigars as they are joined by Charlie Torano himself. The experience of smoking some of the finest cigars, while sipping on award winning wines, will surely be a treat for a true cigar & wine enthusiast.
Charlie Torano is proud to share his Torano -Arrington private label wine as he knows the value of "making time to burn" with a great cigar while being able relax with a fine bottle of wine. He looks forward to being able to award 25 lucky winners a stainless steel wine refrigerator and is excited to make his way to Arrington Vineyard with the grand prize winner.
For more information on the 25 participating stores, prizes, and Torano -Arrington in store specials please go to
www.Torano.com
. Also, for more information on Arrington Vineyards, please go to
www.Arringtonvineyards.com
A leader in the cigar industry, Torano Family Cigar Company is a four generation company currently based in Miami, FL. It enjoys a rich heritage and history in tobacco growing and manufacturing. For more information:
www.Torano.com
. Please also follow Torano on Facebook: Torano A family Cigar Company or on Twitter: @TORAÑOFAMCIGARS.
Creativas Group Public Relations Inc. provides public relations and marketing counsel to South Florida-based businesses, nationally recognized special events and leading non-profit organizations. For more information, please log onto www.creativasgroup.com or email info@creativasgroup.com.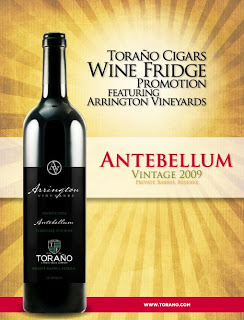 Source: This press release was sent by Creativas Group Public Relations, a group that handles public relations for Torano Family Cigars.
Cigar Coop prints press releases as a service to all cigar companies. In accordance with our code of ethics, I will not be participating in this contest.