As always, when I smoke a pre-release cigar, I feel it is premature to give it a firm assessment rating – therefore, I do a pre-review to provide some initial feedback. With some follow-on smokes completed, it's time to assess some more cigars. Two of the cigars in this assessment update were originally smoked as IPCPR samples. The third was a pre-release of an exclusive made available to Smoke Inn.
I've heard many consider all of these for Cigar of the Year. Here are my thoughts.
San Lotano Oval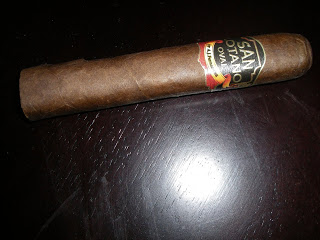 San Lotano Oval
Last year, I felt A.J. Fernandez's new line San Lotano was the revelation of 2010. The San Lotano Connecticut raised the bar on what a good Connecticut shade cigar could be, and the San Lotano Maduro was also a Top 12 cigar in my book. There was considerable hype around the new San Lotano cigar, the San Lotano Oval. When I sampled my IPCPR sample, the cigar started awesome, but by the end it left me underwhelmed. The cigar had good flavors – cocoa, coffee, caramel, cedar, and even some exotic spice. In fact toward the end, I even detected some tea notes. The flavors I felt never fully reached the potential and depth they could have reached. My follow-up experiences were very similar. This is still a good cigar, but falls short of being in contention in cigar of the year.
Here is a link to a pre-review of my initial impressions of this cigar.
Assessment: Nice to Have
My Father El Hijo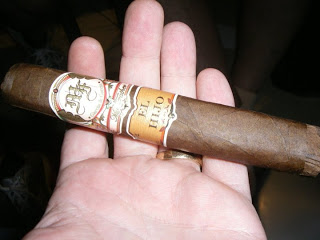 My Father El Hijo
This is a limited release exclusive to Smoke Inn in Florida. My initial impressions were positive, and the follow-on smokes were even better. The pre-release I had gave me flavors of coffee, cedar sweetness, and pepper notes. The sweetness was more defined on the post-release cigars I smoked as I got notes of butterscotch and orange on top of the flavors I got on the pre-release. On the post-release smokes, the burn was significantly better as it was excellent. One of the better cigars I smoked in the My Father line
Here is a link to a pre-review of my initial impressions of this cigar.
Assessment: Memorable
Quesada Oktoberfest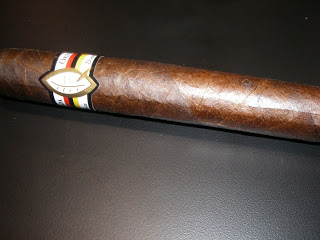 Quesada Oktoberfest
The limited production Quesada Oktoberfest provided some very unique flavor. While I got some nice notes of pepper and chocolate, there were honey and nut flavors that helped this go very nice with a beer. The 52 ring Bavarian is still the one I prefer. The 65 ring gauge Uber takes this cigar to the full-strength, full-bodied range. The only issue I see is that I have had some inconsistent burns in the follow-up smokes. Still a very good smoke and one of the better Quesada cigars I've smoked.
Here is a link to a pre-review of my initial impressions of this cigar.
Assessment: Nice to Have