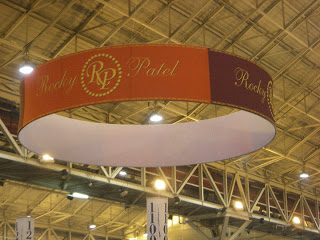 A couple of weeks ago, Cigar Brief reported that Rocky Patel Premium Cigars was bringing back the Rocky Patel Winter Collection in a new blend. This included information of the blend and vitolas. Since then, I've talked with a representative from Rocky Patel and have now seen the cigar listed (not yet for sale) on Atlantic Cigars, so at this point, I'm now including this on this web-site. It is safe to say that the Winter Collection is back.
Rocky Patel's Seasonal Collections were limited run cigars that were meant to coincide with each of the four seasons. If you've sampled these, the blend was almost meant to coincide with the spirit of the season. They were put on hiatus after 2009.
The target timeframe is December. Since my calendar year for cigars starts the day after Thanksgiving, this is officially listed as the first cigar preview for 2012. I have no information on whether or not Rocky Patel is bringing the entire seasonal collection or not. I have no information on quantities at this time.
The link on Cigar Brief includes a picture of the new cigar.
Blend Profile
A very interesting blend profile. This is complete different than previous editions.
Wrapper: Habano
Binder: Costa Rica, San Andreas
Filler: Nicaragua, Panama
Vitolas Available
The Rocky Patel Winter Collection 2012 will be available in three vitolas:
Robusto: 5 ½ x 52
Toro: 6 ½ x 52
Torpedo: 6 1/8 x 52