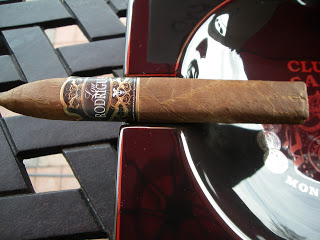 Lou Rodriguez Habano-Rosado
Over the past few weeks, I have had the opportunity to sample and assess three blends in the Lou Rodriguez core line. When an Indie cigar company is able to place three different blends in a retailer's humidor, it becomes what I term a "brand builder". I've now had the opportunity to sample the fourth blend in Lou Rodriguez's core line. This one is the Lou Rodriguez Habano-Rosado. After sampling this cigar, my initial feeling is that this is another quality Lou Rodriguez cigar, but it is not one that fits my flavor profile.
If you haven't read my previous reviews from this line, here is some background on Lou Rodriguez Cigars. The founder, Lou Rodriguez is a doctor by profession who is passionate about cigars and got into the industry. In fact, his cigar bands have the medical symbol denoted on them. There are four cigars currently in the line – the Habano-Rosado, the Connecticut, and two maduros (the Edicion Premier and the more fuller Edicion Reserva).
Let's take a closer look at the Lou Rodriguez Habano-Rosado.
Blend Profile
For the Habano-Rosado blend, this cigar leverages an Ecuadorian Habano wrapper with Nicaraguan binder and fillers.
Wrapper: Ecuadorian Habano
Binder: Nicaraguan
Filler: Nicaraguan (Proprietary)
Vitolas Available
The Lou Rodriguez Habano-Rosado is currently available in five sizes. The cigars are box-pressed. At this time all of this cigars are sold in boxes of 10.
Corona: 5 1/2 x 42
Belicoso: 5 1/2 x 52
Churchill: 7 x 54
Gordito: 6 x 60
Presidente: 8 x 50
Preparation for the Cigar Experience
With the three other Lou Rodriguez cigars I reviewed, I assessed 42 ring gauge cigars. For the Lou Rodriguez Habano-Rosado, this is the one blend I sampled with a bigger ring gauge. In this case, I sampled the Belicoso. I put a straight cut into the tip of the Belicoso and commenced with a prelight draw. The dry draw notes treated me to wood and butter with some subtle notes of dried fruit in the background. Overall, I thought it was a good pre-light draw, so it was on to smoke the Habano-Belicoso.
Flavor Profile
In the other three Lou Rodriguez blends, I have not found them to be the most complex cigars in terms of flavor transitions. For those blends, I did smoke a small vitola and sometimes that factors into it. For the Lou Rodriguez Habano-Rosado, I smoked a bigger vitola. In this case, I did find some more complexity to this cigar, but wouldn't call it overly complex. In the cases of the entire line, the lower complexity does not come at the expense of flavor.
The Habano-Rosado starts out with floral notes to start. These are not "infused" floral notes, but have a natural tobacco quality to it. The floral notes have an underlying citrus sweetness to them. Around ten percent into the cigar experience, the floral notes take on more of a "sweet/spice" profile as some red pepper. The pepper notes are not overpowering and provide good balance. Overall, these are the notes that make up the first 2/3 of the Lou Rodriguez Habano-Rosado. The floral notes were primary and complemented by the citrus and pepper notes.
In the last third, the floral notes subside and orange citrus notes are in the forefront with the pepper spice in a secondary role. I was glad the floral notes subsided as this is not my favorite profile in a cigar. At the same time, I liked the finish of the Habano-Rosado from a flavor perspective. The resulting nub was perfect -. firm and cool. That is the way every nub should be.
Burn and Draw
The Lou Rodriguez Habano-Rosado scores almost perfect scores in this category. The burn was outstanding on this cigar. It burned at an ideal rate and ideal temperature – and required very few-touch-ups. Normally, I am picky when it comes to a draw of a torpedo and belicoso. This is a reason why I am not a fan of these vitolas. However, the Lou Rodriguez Habano-Rosado Belicoso provided one of the better draws from a cigar with a pointed cap. Overall, this draw made this an easy cigar to smoke.
Strength and Body
One of the big surprises of the Lou Rodriguez Habano-Rosado is that this was not a strong cigar from a nicotine profile. For the first two thirds of this cigar, I felt this cigar was actually a notch below medium-strength and I assessed it mild to medium in terms of strength. In the last third, I felt the strength picked up and crossed into the medium area of the spectrum. This milder strength profile balanced very well against the flavors this cigar produced. The flavors had enough depth to qualify this cigar as a medium-bodied cigar.
Final Thoughts
Overall, when floral notes are a primary flavor in a cigar, it is not my first choice for flavor. At the same time, I can see a lot of cigar enthusiasts really liking this particular flavor profile. Everyone has a different flavor pallet and mine is not going to match everyone's. Overall the Lou Rodriguez Habano-Rosado was a high quality smoke that had a nice balance of strength and body. I can see this appealing to some novice and experienced cigar enthusiasts. In the end, I think this is a cigar for some folks, but just not everyone.
Summary
Burn: Excellent
Draw: Excellent
Complexity: Low
Strength: Mild to Medium (First 2/3), Medium (Last 1/3)
Body: Medium
Assessment: Nice to Have
Source: The cigars for this assessment were gifted to me by a friend.