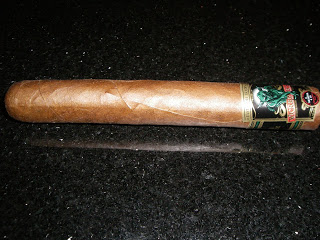 Wicked Indie by East India Trading Company
The Wicked Indie is a new cigar that has been released by Beach Cigar Group. Beach Cigar Group is actually the parent company for Gurkha Cigars. The difference is that the Wicked Indie is not being released as a Gurkha cigar, but under a new line called the "East India Trading Company". Since new Beach Cigar Group CEO Gary Hyams has joined forces with Chairman Kaizad Hansotia, the company seems to be getting back to its roots in terms of packaging and marketing. At the same time the launch of a new line, shows Gurkha looking at changing some business as usual. The Wicked Indie is intended to be a value cigar with an SRP of $4.79 to $5.90 depending on the vitola. While this may have a low price point, this cigar was not short on being an enjoyable smoke. This is one of those cigars that might fly under the radar for 2011 releases.
Before I break down the experience with the Wicked Indie, I want to point to a quote from the press release. In that press release, it described the Wicked Indie as "This cigar encompasses a rich and complex taste profile." I admit, I took it with a grain of salt – especially since this was a value-priced cigar. However after finishing this cigar, I can say this couldn't be more true.
Blend Profile
The Wicked Indie is an all-Nicaraguan puro. It is highlighted by a very toothy, but oily Nicaraguan Habano wrapper.
Wrapper: Nicaraguan Habano
Binder: Nicaraguan
Filler: 3 year aged Nicaraguan fillers


Vitolas Available
The Wicked Indie is available in four vitolas. Each are housed in a "trader-like" 50 count box. The cigars are banded with a footer band. I would still categorize the packaging and banding as "something different".
Robusto: 5 x 52
Toro: 6 x 54
Churchill: 7 x 50
XO: 6 x 60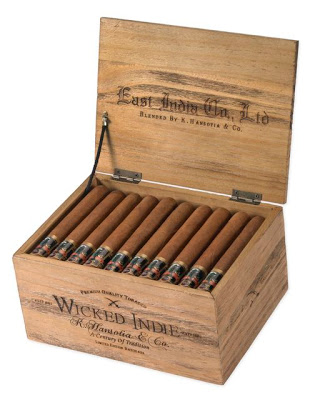 Packaging of the Wicked Indie
Preparation for the Cigar Experience
For this assessment, I went with the Toro vitola. A 6 x 54 sized cigar is ideal for me. I placed a straight cut into the cap and commenced with a pre-light draw. The dry notes didn't yield a lot of flavor. I detected notes of butter and wood, but they weren't very deep. I normally don't score a pre-light draw when assessing a cigar, so I figured I would light up the Wicked Indie and see what would come to the table.
Flavor Profile
After firing up the Wicked Indie, the profile was pretty simple to start. I was getting wood and pepper notes – none of which were very deep. I reflected on the statement around complexity in the press release and was wondering if this would be all I would get from this cigar. I soon would be surprised as this flavor profile had a lot more in store.
About five percent into the smoke of the Wicked Indie, the pepper notes took on more of a classic cedar sweet-spice profile. Again the notes were not too deep, so I still was questioning where the complexity was. It was around the 10 percent point where the flavors started to expand. The cedar flavors were joined by some floral and mint notes. Yes, I'm going on the record of saying "mint" here. I wouldn't categorize that as the primary note as the floral and cedar notes were in the forefront. The depth of the flavors also started to increase.
By the midway point of the Wicked Indie, I detected a caramel sweetness joining the cedar, floral, and mint notes. The caramel notes would find their way to the forefront. In the final third, I noticed the Wicked Indie take a twist. The cedar notes moved to the forefront and were joined by some cinnamon notes. The floral, caramel, and mint notes diminished in this last part of the smoking experience. However by this point, I was sold on this cigar's complexity. The finish to the Wicked Indie was very smooth. I got an outstanding nub that was firm to the touch and cool in temperature.
Burn and Draw
One thing that amazed me was how well this cigar burned and drew. From a burn standpoint, it needed a few touch-ups, but nothing major. It produced a nice thick and tight white ash. The burn rate and temperature were ideal as well. The cigar also had an outstanding draw. Overall, I was impressed by the construction of the cigars I smoked.
Burn of the Wicked Indie – note footer band moved toward cap
Strength and Body
Both the strength and body of the Wicked Indie evolved during the smoke. From a nicotine standpoint, the Wicked Indie isn't going to set the world on fire. It starts out as mild to medium and transitions to a classic medium strength smoke in the second half. When I mentioned the flavors, I mentioned they weren't deep early on. However in the later stages – particularly in the last third, the depth does increase. This made for what I consider a mild to medium-bodied cigar early on – transitioning to medium body by the last third. Overall, I liked how both the strength and body had a subtle build-up.
Final Thoughts
This was a surprise smoke for me. I don't factor price into my final assessment, but I will say for this price point – it makes a nice regular rotation cigar. In particular the way the flavors developed very nicely and it did produce a complex smoke. Normally I don't like floral undertones in a cigar, but it works with this flavor profile. I would not hesitate to recommend this to a novice enthusiast. I think this cigar can appeal to an experienced enthusiast, but if they are expecting more strength and body, this could fall a little short. I can see myself smoking some more of these.
Summary
Burn: Excellent
Draw: Excellent
Complexity: High
Strength: Mild to Medium (1st Half)/Medium (2nd Half)
Body: Mild to Medium (1st 2/3)/Medium (Last third)
Assessment: Nice to Have
Source: The cigars smoked for this assessment was a sample provided by Gurkha Cigars. The sample was initiated by Gurkha Cigars in order to provide feedback. I am appreciative for the sample, but in no way does this influence this review.