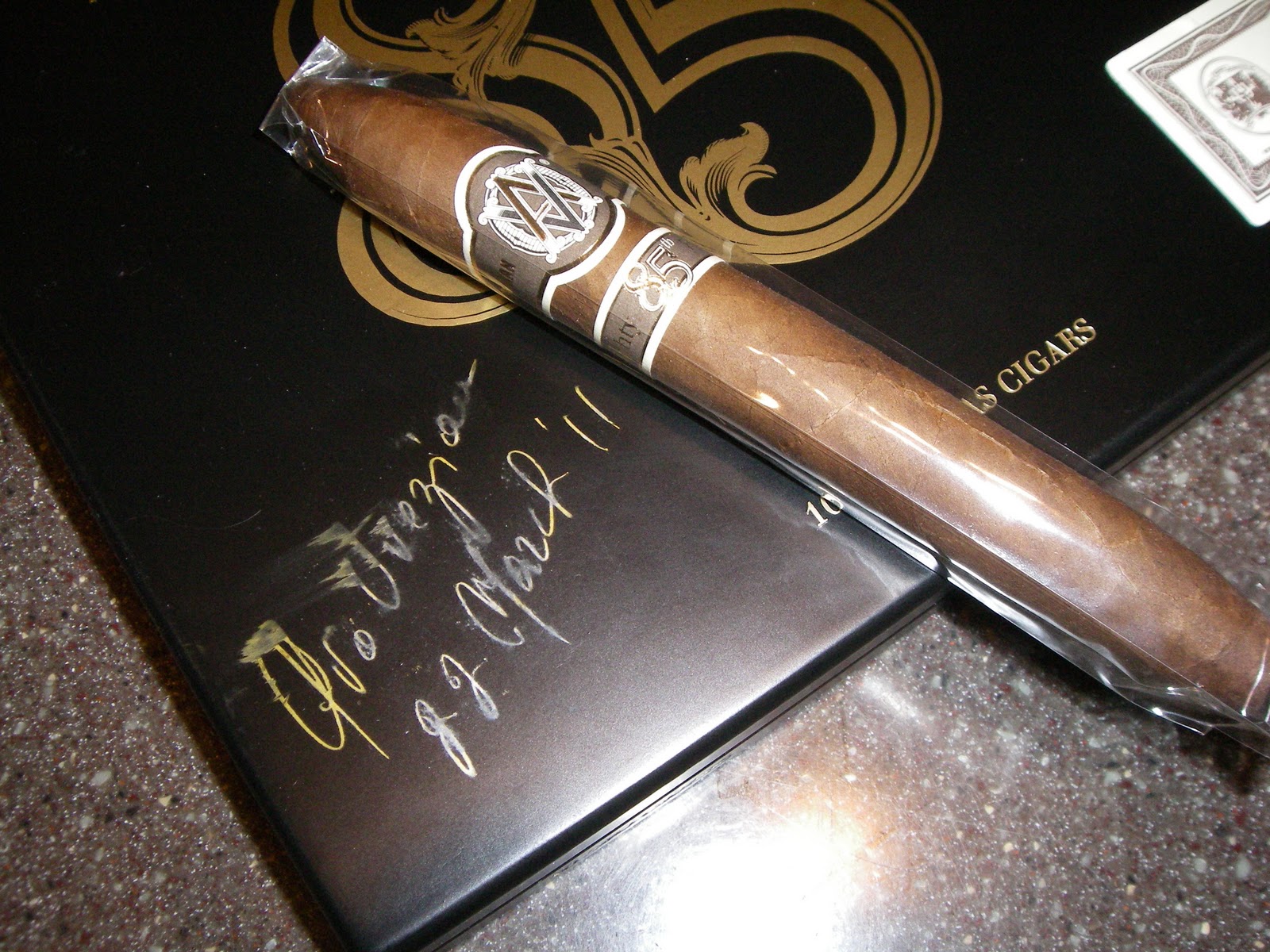 The 2011 Cigar of the Year Countdown has now reached the Fab Five.   Today's Epic Encounter comes from one of the brand of one of the legendary figures in the cigar business – Avo Uvezian.   It is the follow-up to what was my 2010 Cigar of the Year.
Coming in at #5 is the Avo Limited Edition 2011 85th Anniversary (Avo LE11). Combined this with the two Room 101 Cigars that made that top ten and this gives the Davidoff family three cigars in the top ten.   Last year, the Avo Limited edition 2010 was my Cigar of the Year.  It was a departure from most cigars in the Avo line as that represented a full strength/full-bodied smoking experience.  For the Avo LE11, this goes back to Avo basics – offering a medium strength cigar while balancing it with medium to full-bodied flavors.  Each March, the Avo Limited Edition series comes out around Uvezian's birthday.  Because this was Uvezian's 85th birthday, this cigar uses the name 85th.
It isn't fair to compare the Avo LE10 and Avo LE11 as these are two completely different blends and vitolas.  The end result is a very different flavor profile in the Avo LE11 from the Avo LE10.   The flavor profile consists of Berry, Cinnamon, Wood, Nut, Char, baker's spice, and pepper.  The burn and draw live up to the high standards that make up the Avo line -as both characteristics were consistently excellent.
Click here for the full assessment done on this cigar.
Blend Profile
Wrapper: Dominican
Binder: Pelo de Oro (Peru)
Filler: San Vicente Visus, San Vicente Ligero, Piloto Ligero, Piloto Seco
Vitolas Available
.For the Avo Limited Edition 2011 85th Anniversary, there is a single vitola offering (this is on par for the Avo Limited Edition series).  For the Avo LE11 edition, they opt for a "Diadema"
shape.  This is a 6.75 x 50 vitola – basically a perfecto (almost like a
thinner salomon).  This seems a little shorter than what a Diameda is.
Recommended Vitola: Diadema (default)