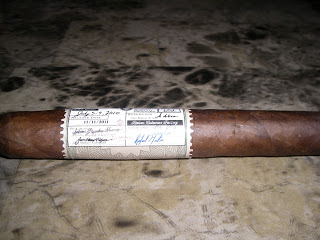 Alec Bradley Fine and Rare
In 2011, you can make an argument that Tatuaje's Wolfman was one of the most sought after cigars by cigar enthusiasts. If I had to say what was the second most sought after cigar, I would have to say it was Alec Bradley's Fine and Rare. In fact at the 2011 IPCPR Trade Show, the Fine and Rare was on sale and sold out of the initial allotment of 1,000 boxes before it was even released (although 1,1,11 were released – more on additional allotments later). It has been released in small batches to retailers in a Viaje-like fashion. Recently, I finally had an opportunity to sample one of these cigars. Overall, the experience with the cigar was positive one and this might be the best Alec Bradley release to date.
The Alec Bradley Fine and Rare has its origins in August 2010 when a team of rollers blended a cigar with ten different tobaccos. According to Alec Bradley president Alan Rubin, he believes this is the only cigar that uses ten different tobaccos in a cigar. The boxes of the cigars feature a level of personalization as it contains the signatures of the rollers, factory
supervisor as well as Alan Rubin and Rafael Montero from Alec Bradley. With a limited allotment of boxes, this cigar is intended to be an ultra-premium offering by Alec Bradley and will have an SRP of around $14.00 per cigar.
Let's take a closer look at the Alec Bradley Fine and Rare:
Blend Profile
Here is what I do know about the blend. As you can see the total tobaccos add up to 10.
Wrapper: Honduras – Trojes farm
Binder: Honduras, Nicaragua (Double Binder – contains two leaves for binder)
Filler: Unknown – but contains seven leaves of filler
Vitolas Available
There are three vitolas available. The most common vitola is the 6 x 52 toro. There are also torpedos and perfectos available in certain limited boxes (I do not have the dimensions of these vitolas). The total number of boxes produced was 1,111 and this coincided with the release date of 11/11/11. Here is a breakdown of the boxes and what vitolas were contained.
1000 boxes – containing ten toros.
100 boxes – containing ten toros and ten torpedos.
11 boxes – containing ten toros, ten torpedoes, and ten perfectos (These boxes are being made available for charity only)
Preparation for the Cigar Experience
For this assessment, I smoked a Toro. While the torpedo and perfecto are harder to get, the toro is my preferred vitola over the others, so I had no issues going with it. I placed a straight cut into the cap of my Alec Bradley Fine and Rare. I enjoyed the pre-light draw right off the bat. The dry notes gave me flavors of coffee and leather. There was also a slight touch of cedar in the background. Overall, the pre-light experience was very positive, so it was time to fire up my Fine and Rare.
Flavor Profile
The initial draws of the Alec Bradley Fine and Rare provided me with a quick shot of cedar spice. The cigar mellowed quickly and settled into a flavor profile of leather notes (primary), coffee notes (secondary), and subtle notes of cream, cedar and dried fruit in the background (tertiary). The profile was very smooth to start.
About ten percent into the flavors in the profile above got bolder. As the cigar entered the second third, the cedar and coffee notes would push toward the forefront and become the primary notes. As the flavors moved into the final third, wood notes would then surface as the primary flavor. Throughout the whole smoking experience, the Alec Bradley Fine and Rare maintained its smoothness right until the end. The nub on the Alec Bradley Fine and Rare was cool and firm – the way you would expect a high quality cigar to finish.
While the flavors were very satisfying, perhaps the only disappointing factor is I expected much more in the way of flavor transitions and complexity with a ten tobacco cigar. This doesn't negate the smoking experience of a cigar, but it would have been a nice bonus.
Burn and Draw
When a cigar is classified as "ultra-premium" and carries a hefty price tag, there is no room for error when it comes to burn and draw. The great news is the Alec Bradley Fine and Rare comes through with flying colors. The burn was razor-sharp throughout the smoking experience – requiring very little in the way of touch-ups. It burned at an ideal rate and ideal temperature. The ash had a little flowering, but nothing major. The draw was flawless making this a very enjoyable smoking experience.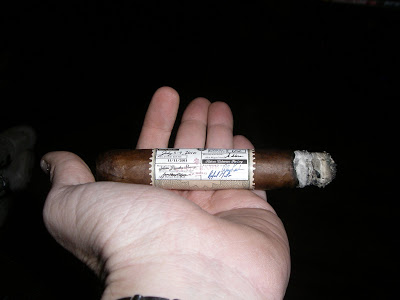 Burn of the Alec Bradley Fine and Rare
Strength and Body
From a strength perspective, the Alec Bradley Fine and Rare is not going to be a nicotine bomb. It is your classic medium strength cigar. From a body perspective, this cigar doesn't provide a deep flavor pop, but it provides just enough depth in the flavors to be more than satisfying. This cigar easily falls into the medium-bodied zone. Great balance between the strength and the flavors help enhance the experience with the Fine and Rare.
Final Thoughts
Up front I mentioned that this is a tough cigar to get. I think if you go in expecting this to be a powerful and complex cigar, you will be disappointed. If you want to smoke what is a very good medium-strength, medium-bodied, and medium-complexity cigar – this cigar is a textbook case study for how one of these should smoke. It's definitely the best Alec Bradley I've had to date. I smoked this after the deadline for my 2011 Cigar of the Year Countdown, so it does not appear on the list. An experienced cigar enthusiast who appreciates a classic medium/medium cigar will like this. Novice cigar enthusiasts may want to reach for this as a special occasion cigar. I personally look forward to smoking this again.
Summary
Burn: Excellent
Draw: Excellent
Complexity: Medium
Strength: Medium
Body: Medium
Assessment: Memorable


Source: The cigar for this assessment was purchased from Tobacco World in Marietta, Georgia.