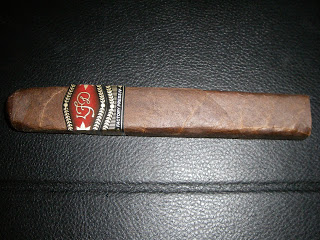 La Flor Dominicana Factory Press IV
Ever since the initial release of the Factory Press series by Litto Gomez and La Flor Dominicana a few years ago, the cigars in this series have long been sought after by many cigar enthusiasts. According to Gomez, the genesis for the Factory Press series is as follows: For years I have been fascinated with our cigar box-pressing system. Many times I have thought how great it would be to share the process with our fans. That is why I'm offering a very special cigar shipped in the actual factory press. Because the concept is so special we needed to blend a cigar that will be totally unique to La Flor Dominicana". Just released at the end of November is the fourth installment of this popular series – appropriately titled "Factory Press IV". Overall, while I did find this to be a very good cigar, but one that fell a little short of being what I would term a cigar "home run".
In each of the installments of the Factory Press series, the blend and size have changed. In addition to packaging it in the actual factory press (see below), the common denominator for each of these cigars have been the wide box-press shape of these cigars.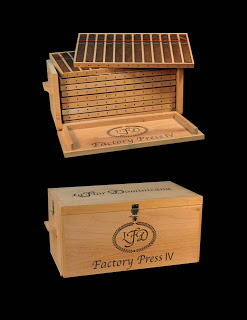 La Flor Dominicana Factory Press IV packaging – Source: LFD page on Facebook
Let's examine the Factory Press IV in some more detail and see what this cigar brings to the table.
Blend Profile
For the Factory Press IV, Gomez has opted to go with a Mexican wrapper – a first for the Factory Press series. In a time where some manufacturers are still hesitant to disclose a Mexican wrapper, credit goes to Gomez and La Flor Dominicana for announcing this This is a testament that some good wrappers are coming from Mexico.
Wrapper: Mexican
Binder: Ecuadorian
Filler: Dominican (La Canela Farm)
Vitolas Available
As with each release, a single vitola is made. This returns to the vitola of the original Factory Press – a 6.5 x 60. The cigar will come in trays of 12 and stored in a box-press cabinet (see picture above)
Preparation for the Cigar Experience
Given that this is a 60 ring gauge, I defaulted to a straight cut on the Factory Press IV. I commenced with the pre-light draw and was treated to notes of wood, pepper, and some sweet notes which I have not been able to put my finger on. I considered the dry draw notes I got from the Factory Press IV to be satisfactory, therefore I was excited to fire up this cigar and see what was in-store.
Flavor Profile
For this assessment, I sampled two Factory Press IV cigars from two different shops. In each case, the flavor profile pretty much came out the same. At the start of the Factory Press IV, I was treated to a very short shot of black pepper. I wouldn't put it in the same category as a Don Pepin Garcia pepper blast. The shot of pepper subsided extremely quickly. The Factory Press IV then settled in flavors of chocolate and floral notes. If you have read some recent reviews I have posted, I am not a huge fan of floral notes. However balanced against the rich chocolates the Factory Press IV produces, I didn't mind it.
Around ten percent into the smoke of the Factory Press IV, a cross of cedar and pepper spice joined the floral and chocolate notes. For most of the duration of this cigar, the spice, floral, and chocolate notes alternated as to which flavor is in the forefront. In the last third of the cigar, the spice notes finally emerged as the primary note. The finish to this cigar was not ideal. I found the finish to the Factory Press IV to be a little harsh. The nub was also soft and warm.
Burn and Draw
Given that the Factory Press IV is an extremely tightly rolled box-press, I expected some resistance on the draw. It was no surprise that this was the case with this cigar. Normally I don't mind a little tightness on the draw, but this was a little tighter than I prefer. This was consistent with the other releases I have sampled in the Factory press series. As for the Factory Press IV, the cigar burned at an ideal rate and ideal temperature. This is going to be a two hour cigar. The one knock of the Factory Press IV is that it did require many touch-ups and produced a flaky ash.


Strength and Body
From a nicotine standpoint, I felt the Factory Press IV had just enough strength. This cigar is a classic "medium to full" strength cigar. The flavor notes of the Factory Press IV are deep and rich. This fits a classic mold of a full-bodied cigar. The fact that the Factory Press IV is not overly strong creates good balance between the strength and body.
Final Thoughts
Overall, the La Flor Dominicana Factory Press IV has good flavor. I guess I was expecting a little more from the Mexican wrapper that was used on this cigar. While it produced nice chocolate notes, I still was hoping for a little more sweetness. I also would have liked a little more in complexity from this cigar as well as a smoother finish. I've heard some say this is the best of the Factory Press series – and while this has nice flavor, I'm not ready to make that assessment. This is probably a cigar more for the seasoned cigar enthusiast to have. As for myself, I'll tuck one away and smoke and if age takes it to the next level.
Summary
Burn: Good
Draw: Good
Complexity: Low
Strength: Medium to Full
Body: Full
Assessment: Nice to Have


Source: One cigar for this assessment was purchased from Outland Cigars in Charlotte, NC. The other cigar was purchased from W.Curtis Draper in Bethesda, MD.