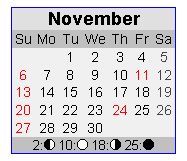 New releases continued to hit retailers' shelves in November 2011 – including a couple of highly anticipated releases. From a personal standpoint, it probably was one of the better months for smokes I have had in sometime. Let's take a look at what happened this month.
New Releases
Assessments Conducted
As mentioned there were a lot of smokes this month. Here are the highlights of some of the more well known ones:
Other Announcements
Our friends at Cigar Brief got word that Rocky Patel has relaunched the Winter Collection. It is arriving on retailers shelves in December.
Legislation
H.R. 1639 / S. 1461 continues to be the focus around the battle against the Pleasure Police. This month saw S 1461 start to gain some momentum as Senator Louisiana Mary Landrieu sign on a co-sponsor. This was followed in early December by Tennessee Senator Lamar Alexander signing on. As for the House bill, HR 1639 – the number of legislators as co-sponsors is now at 126