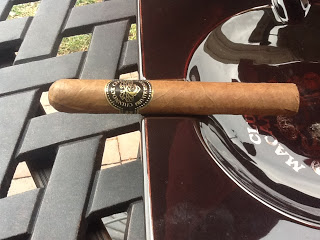 Chinnock Cellars Private Reserve
Note: With all IPCPR 2011 samples, these are being included with our IPCPR Series. That being said, there are still some samples that have not been assessed.
When it comes to pairing wines and spirits with cigars, I admit I am far from an expert on it. However, I do recognize this is a popular thing among cigar enthusiasts to do. One boutique/indie company, Chinnock Cellars has decided to take this concept and integrate it with their vision. Chinnock Cellars is the brainchild of Brian Chinnock. Chinnock is a winemaker from California who recently launched his own line of cigars. The idea was to blend a cigar that could complement his line of wines. The first release from Chinnock Cellars is the Chinnock Cellars Private Reserve. In the end, since wine is not my field of expertise, I looked at how this cigar stood on its own. I must say this was a great change of pace cigar and proved to be a very positive cigar experience.
When I look at indie cigar companies, I look for differentiators. The concept should be that if a retailer brings in a new cigar, it should be capable of knocking something else off the shelf. The Chinnock Cellars Private Reserve has some pedigree behind it. The cigars are rolled at Miami's famous El Titan de Bronze factory. They were blended under the watchful eye of Willy Herrera (before he departed for Drew Estate). The cigars are rolled by grade 9 torcedors (the highest level of cigar roller).
With a vision and solid execution process in place, let's see how the Chinnock Cellars Private Reserve smokes:
Blend Profile
The Chinnock Cellars Private Reserve features tobacco from three different countries.
Wrapper: Ecuadorian Sun Grown Habano
Binder: Nicaragua (two leaves)
Filler: Dominican, Nicaraguan
Vitolas Available
The core Chinnock Cellars Private Reserve is available in three vitolas:
Robusto: 5 x 52
Toro: 6 x 52
Torpedo: 6 x 52
Appearance
For this assessment, I sampled the Robusto vitola. The Chinnock Cellars Private Reserve wrapper has a very natural colored look to it. The wrapper itself has an oily texture. It is a little bit toothy and there are some veins protruding out. The cigar itself has a classic farm and cedar aroma to it.
The band is simple. It has a black background with gold font saying "Chinnock Cellars Private Reserve". There is also a leaf and a letter C on the band.
Preparation for the Cigar Experience
As I do in most cases, I opted to place a straight cut into my Chinnock Cellars Private Reserve. The pre-light draw was most interesting. The dry draw notes provided me flavors of cedar, pepper, and a natural tobacco taste. A lot of times I get caught up in analogies to what the flavors of a cigar should be and sometimes I forget how good natural tobacco taste can be. This was a satisfactory pre-light draw, so it was on to firing up the Private Reserve and seeing what it would deliver.
Flavor Profile
The natural tobacco taste that I got on the pre-light draw continued on the initial draw once the Chinnock Cellars Private Reserve was lit. Shortly after, this was accompanied by a unique sweetness that I could not put my finger on. In the first five percent of the smoke, I also detected some secondary notes of butter and pepper spice complementing the natural tobacco and sweet notes.
By the ten percent mark, the sweetness started to resemble caramel. This complemented very nicely with the natural tobacco taste. For a good chunk of the cigar experience, this flavor profile would hold. As the cigar progressed through the second third, the sweetness seemed to have more of a honey flavored taste. In the last third, this sweetness moved into the forefront – ahead of the natural tobacco flavors. By the time the cigar got to a toward the nub, the sweet notes did seem muted. The finish provided a soft and warm nub.
Burn and Draw
The Chinnock Cellars Private Reserve burned at an ideal rate and ideal temperature (although it was a little warm toward the end). The burn did require several touch-ups and for the most part, the touch-ups kept the burn on track. The draw did provide a little more resistance than I normally like, but it still was a solid draw and one I really did not have to fight.
Strength and Body
The Chinnock Cellars Private Reserve is a good textbook study on how strength and body should balance each other. From a strength perspective, the Private Reserve is not going to overwhelm you. This is your classic medium strength cigar. As for the depth of the flavor notes, the flavors are robust with the Private Reserve. In the end, I assessed this cigar to be medium to full in body. The Private Reserve provides just the right amount of strength combined with some nice body on the flavors.
Final Thoughts
In the end, I'm not going to be able to assess how this cigar pairs with a wine. I can say that the Chinnock Cellars Private Reserve does deliver some unique flavors. It definitely brought something different to the table. I admit, I did have high bar on the burn and draw given grade 9 torcedors were being used to roll the cigar. I would have liked to have seen perfect scores with burn and draw and while this didn't happen – this was still a good quality cigar. I'd easily recommend this to novice enthusiasts looking for something different and for someone wanting to graduate to a medium strength, medium to full-bodied cigar. Experienced cigar enthusiasts will appreciate the unique flavor profile here. I look forward to smoking this cigar again.
Summary
Burn: Good
Draw: Good
Complexity: Medium
Strength: Medium
Body: Medium to Full
Finish: Good
Assessment: Nice to Have
Score: 88
Source: These samples were received at the 2011 IPCPR Trade Show. These
samples were initiated by Chinnock Cellars in order to provide
feedback. I am appreciative for the sample, but in no way does this
influence this review.
Note: All samples received from the 2011 IPCPR Trade Show are included in my "2011 IPCPR Series"