The following product was assessed on this web-site back on 12/29/2011. The cigar we smoked was made available to the store where it was purchased. This press release marks the official announcement of this cigar.
NEW PRODUCT RELEASE
7-20-4 Cigars/Vintage
Cigar Distributors
128 Rockingham Rd.
Londonderry, NH 03053
Phone: 603-965-4493
E-mail: kurt@7-20-4.com
Contact: Kurt Kendall
FOR
RELEASE: February 18, 2012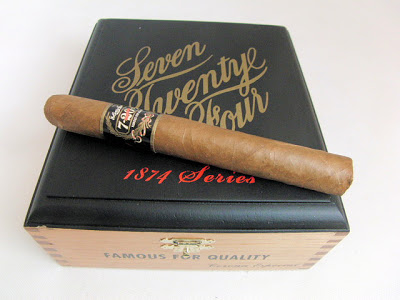 Celebrating the founding year of the original 7-20-4 factory, Kurt Kendall has introduced his new 1874 Series in three shapes
7-20-4 Cigars Adds New "1874 Series" to Commemorate
the Founding Year of Company's Namesake
The year 1874 saw the
establishment of what would become one of the world's largest cigar manufacturers,
the 7-20-4 Cigar Company. Founder
R. G. Sullivan built his company's reputation on his motto: "Quality Still
Impels Its Growth." The
Manchester, New Hampshire, company was flourished until the Cuban Embargo
closed it and many other world-renowned premium cigar labels.
Founder and company
president of the newly-reborn company, Kurt A. Kendall, is a successful New
Hampshire cigar retailer, with three stores in the state. He became intrigued with the historic
brand, and acquired the defunct trademark in 2009, determined to return the
brand to prominence. When asked
the origin of the company's name, he explained, "It was the original factory
showroom's address at 724 Elm Street."
All 7-20-4 boutique premium cigars are now hand made from 100%
long-filler tobaccos, in Danli, Honduras and Esteli, Nicaragua.
The 1874 Series is
Kendall's second introduction, following the 7-20-4 brand's 2009 debut. The first cigar was noted for its
deeply complex six-nation blend, which has now grown to eight shapes. The premiere 7-20-4 boutique cigar
received wide acclaim for its performance, and the 1874 Series has followed,
receiving kudos in the cigar media.
Three 1874 Series
shapes are offered … a 6″ x 46 Corona Especial, a 5-1/4″ x 52
Robusto Especial, and a 6″ x 54 Torpedo Especial. The complex blend consists of a filler
from Nicaragua's Jalapa Valley and the nearby cigar-making capital of Esteli,
an Indonesian binder, and a Jalapa-grown Habano wrapper.
Kendall feels he has
struck the ideal balance of medium body and full flavor, based on his fifteen
years as a cigar retailer. "I know
what sells," he explains, "plus branding and what kind of box and band art
draws the eye in a humidor. Like
the original 7-20-4, this cigar is blended for every palate. The generous flavor of both 7-20-4
lines satisfies even seasoned veterans, and newer smokers aren't overwhelmed by
the body." To date, his roster of
350 retailers validates his philosophy.
Although Kendall does
not describe the flavor profile of the 1874 Series, reviewers use, among
others. the terms "toasty," "buttery," and "slightly raisin-like." They also comment on its excellent
balance. Kendall does say the
cigar is "very smooth on the palate, highly aromatic, with a spicy character
… not on the tongue, but in the nose."
Much of the 1874's sophistication is due to its five years of wrapper
aging and four years of age on the filler.
The
completed cigars rest another 180 days before shipment to retailers. Traditional Cuban Entubado bunching, wherein each individual filler leaf is tubed,
prevents off-center burn and hard/plugged draw, smokers' two major
complaints. The finished cigars
are individually cellophane tubed, and presented 20 cigars to a high-quality
cedar cabinet. Manufacturer's
suggested retail pricing for the cigar is $8 to $10, and all three shapes are
now available at better tobacco retailers nationwide. In-store posters and humidor "shelf talkers" guide smokers
to the 1874 Series cigars on display.
Source: The press release was sent from Dale Scott who represents 7-20-4 cigars.