NEW
PRODUCT RELEASE
Urbano Cigars, Inc.
Tampa, Florida
Phone: 813-967-7826
Fax: 813-994-1543
E-mail:
Matt@UrbanoCigars.com
Contact: Matt
Urbano FOR RELEASE: February 15, 2012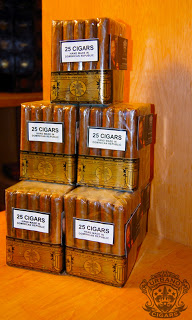 New
Urbano Economy Bundles … hand-made premium
cigars from 100% long-filler tobacco, available in 5 shapes and
5wrappers
New Urbano
Economy Bundles: Long-Filler, Hand-Made Premium Cigars
"For
Everyday Guys"
"With
five wrappers and five shapes, we haven't left any cigar smoker
behind." The speaker is Matt Urbano, founder and owner of Urbano
Cigars, Inc. "Our new 100% long-filler, hand-made Urbano Economy
Bundles meet every smoker's criterion for variety, satisfaction,
and affordability. These mild- to medium-bodied cigars are our
latest introduction, and are targeted at the many daily smokers who
are looking for an honest cigar that won't break their budget."
Urbano
Economy Bundles' wrapper selections are Connecticut Shade, Sumatra,
Habano, Corojo and Maduro. They are available in Robusto, Torpedo,
Toro, Churchill, and the company's new 6″ x 60 shape. As an
extra quality touch, the heads are double-capped, to prevent the
messy frustration of having a cap unravel in the mouth.
There's
real value in these smokes … the long filler and binder are all
top-quality Dominican tobaccos that have been painstakingly
fermented, then patiently aged. They are hand-made by a Cuban-owned
Dominican boutique cigar factory, then aged another three months.
Each cigar is individually cellophane-sheathed, and packaged in
plastic-wrapped bundles. All shapes are packaged 25 cigars to the
bundle, except for the 6″ x 60, which comes 20 to a bundle.
Manufacturer's
suggested retail pricing for the Connecticut and Sumatra start at $48
(Robusto), and top out at $55 (6″ x 60). The Corojo, Habano and
Maduro-wrapped cigars retail for $48 (Robusto) to $60 (6″ x 60).
Quoting
Urbano, "Long-filler, hand-made Economy Bundles
compete head-to-head with mass-produced, 'no-names,' factory
seconds and overrun items. They're perfect for today's
depressed economy, delivering premium flavor, quality and
affordability to the everyday guy." Urbano Economy Bundles are now
available at tobacco retailers nationwide.
Source: The press release was sent from Dale Scott who represents Urbano Cigars.