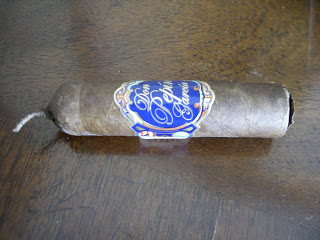 Don Pepin Garcia Blue Label Firecracker
In the past year, the Garcia family has been promoting many retailer exclusive cigar blends and vitolas under the My Father Cigars brand. Retail exclusive cigars are nothing new to the Garcias and in particular Don Pepin Garcia. A few years ago, under the Don Pepin Garcia brand, a retail exclusive cigar was provided to Two Guys Cigar Shop in New Hampshire. This cigar was a special vitola of the popular Don Pepin Garcia Blue Label and is called the Firecracker. From it's appearance, it looks more like a M80 – complete with a fuse. In addition, when examining this cigar, it appears to be more like a 1/2 size cigar – which it basicaly is. This little cigar delivers a powerful bunch and provides some very nice flavors making for a nice smoking experience in a short amount of time.
The Don Pepin Garcia Blue Label series comes from Garcia's original company, El Rey de los Habanos. It was originally made at the factory in Miami bearing that company's name and then production was shifted to Tabaclaera Cubanas S.A. in Esteli, Nicaragua. The Blue Label series has produced one other retail exclusive vitola, a special lancero (for Puff n Stuff in Georgia). The Firecracker is a unique vitola in terms of the porfolio of cigars offered by the Garcia family (El Rey de los Habanos and My Father Cigars). Measuring three inches in length, it is definitely one of the shortest cigars I have seeen with a 50 ring gauge vitola.
Let's take a closer look at this cigar and see how it breaks down. I will disclaim that this assessment is based on a single smoke of the Don Pepin Blue Label Firecracker.
Blend Profile
The Don Pepin Garcia Blue Label is an all-Nicaraguan puro mixing Corojo and Criollo tobaccos in the blend.
Wrapper: Nicaraguan Corojo Oscuro
Binder: Nicaraguan Criollo
Filler: Nicaraguan Criollo/Corojo
Vitolas Available
Currenly there is a wide variety of vitolas for the Don Pepin Garcia Blue Label. These have all be included for reference purposes. The line has 12 vitolas and range from the 3 inch Firecracker to the 9 1/4 inch "A" vitola (Exclusivo).
Exclusivo: 9 1/4 x 48
Magnate: 7 5/8 x 49
Delicas: 7 x 50
Imperiales: 6 1/8 x 52
Generoso: 6 x 50
Exquisitos 5 5/8 x 46
Preferidos: 5 1/8 x 42
Invictos: 5 x 50
Demi Tasse 4 1/2 x 32
Fundadores: 7 1/2 x 38
Lancero: 6 7/8 x 42 (Puff n Stuff Retail Exclusive)
Firecracker: 3 x 50 (Two Guys Retail Exclusive)
Appearance
The Don Pepin Garcia Blue Label Firecracker has a coffee colored oscuro wrapper. The wrapper is oily in complexion and smooth to the touch. There are some wrapper seams that are visible as well as a few veins. The foot of the Firecracker is covered. There is a tail on the cap that is not a classic pig-tail, but has more of the appearance of a firecracker "fuse".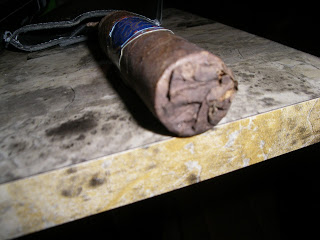 Covered foot of the Don Pepin Garcia Blue Label
Given that this is the "Blue Label", the band is primarily blue in its background color. The text "Don Pepin Garcia" is in gold cursive font on a blue background field. The band has additional gold and red coloring on it. Flanking the blue field are the United States and Cuban flags to the left and right respectively.
Preparation for the Cigar Experience
For my Don Pepin Garcia Blue Label Firecracker, I opted not to pull the "fuse" off and instead I placed a straight cut into the cap. This is what I do with all cigars that have a pig-tail cap. When I commenced with the pre-light draw, it provided my flavors of chocolate with a hint of pepper. Overall, the dry draw experience was satisfactory. At this point, it was time to light the Firecracker and see what would be in-store during the smoking experience.
Flavor Profile
Overall, this was not a very complex cigar. Given that the cigar was only three inches long, there wasn't a lot of time for flavor transitions. However, the flavors that the Firecracker produced were robust and very flavorful.
There was no surprise to the start of the Firecracker as I was treated to a Don Pepin Garcia pepper blast. As the pepper notes subsided I detected some cocoa/chocolate notes. Once the chocolate notes surfaced, the Firecracker took a flavor profile of pepper and chocolate from to the finish. Even on the finish, when I would expected the spice to kick it up a notch, the flavor profile held consistent. The nub was cool in temperature and firm to the touch – an ideal nub for a cigar smoking experience to come to closure.
Burn and Draw
On the back side of the cigar (not shown in the photo), there was a slight tear in the wrapper. This had no impact on the smoking experience as the burn was sharp from start to finish. A little extra touch-up was needed midway through the cigar where the tear was, but this was a low maintenance cigar to keep burning straight. The burn rate and burn temperature were ideal. I smoked this cigar for about 35 minutes. The draw was outstanding as well. I was expecting difficulties with this as this is a short vitola, but no issues here either.
Strength and Body
This cigar lives up to the name "Firecracker". This little vitola is going to back a nice punch and easily qualifies as a full strength smoke from a nicotine standpoint. As I mentioned above, the flavor notes are robust. The depth of the flavors gives this cigar enough body to qualify this as a full-bodied cigar. The strength and body seem to balance each other very well as neither attribute overshadows the other.
Final Thoughts
Looking at the Firecracker, it does seem a little gimmicky, but in the end, it delivers quality and flavor. Not sure if it would make a good first smoke of the day, but it does provide a nice powerful and flavorful smoke that will last about 30 to 40 minutes. What this cigar lacks in complexity, it makes up in flavor and construction. This is definitely a cigar for the more seasoned cigar enthusiast who likes full strength, full-bodied cigars. As for myself, this is a cigar I would have no issue reaching for and smoking again.
Summary
Burn: Excellent
Draw: Excellent
Complexity: Low
Strength: Full
Body: Full
Finish: Excellent
Assessment: Nice to Have
Score: 90
Source: The cigar for this assessment was gifted by a friend.