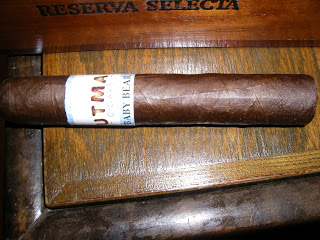 Outman Cigars' "Baby Bear" by Rocky Patel
At a June 22nd event commemorating their second anniversary, Greenville South Carolina retailer Outman Cigars unveiled three retail exclusive cigars that have been blended by Rocky Patel Premium Cigars. Rocky Patel and his brother Nish Patel were on-hand for the event.
The line of cigars has the Outman Cigars name and each vitola has the name of a bear. There is a robusto-sized vitola called the "Baby Bear" (pictured left). The toro-sized vitola is called the "Momma Bear" (pictured below). There is a gordo-sized vitola called the "Papa Bear" not pictured.
Blend details and specifics around the vitola sizes were not disclosed. The cigars are manufactured in Nicaragua. The price point starts at $6.95 SRP.
The packaging of the cigars features the "Outman Cigars" name and logo on the bands and boxes as well as the name of the vitola. Each of the vitolas has a different color scheme incorporated into its packaging. The Baby Bear features baby blue striping. The Momma Bear features teal-colored striping while the Papa Bear features gold striping.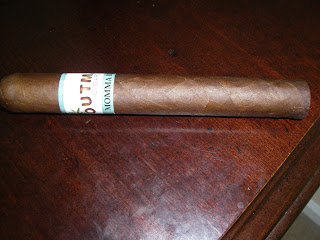 Outman Cigars' "Momma Bear" by Rocky Patel
Our experiences with the blend has been very positive as it provided an earthy profile with medium strength, medium to full-body.
Rocky Patel premium cigars is already known for retail exclusive cigars such as Holt's (Rocky Patel Ocean Club), Tinderbox Charlotte (1939 Reserve), and Corona Cigar Company (Rocky Patel Hercules).