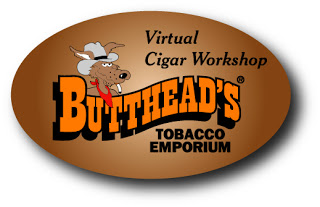 June 9, 2012 Danbury, CT – In a first of it's kind event with a major cigar manufacturer, Butthead's Tobacco Emporium @buttheads will be presenting an evening with Jose Blanco @joseblanco809 of Joya de Nicaragua cigars @joyacigars. This Workshop for 50 in-store participants will also be broadcast as a Virtual Cigar Workshop live on the web to an additional 250 cigar enthusiasts. The Workshop will be held in Danbury, Connecticut at Butthead's Tobacco Emporium's anchor store. The event fee is $50 and includes a sampler of four Joya de Nicaragua cigars and a special event cigar commissioned for the event. The Joya de Nicaragua cigars included in the sampler are Joya de Nicaragua Celebration Toro, Joya de Nicaragua Cabinetta No.7 Toro, Joya de Nicaragua Antano 1970 Alisado, Joya de Nicaragua Antano Dark Corojo Poderoso.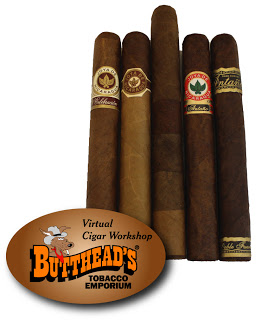 The unique cigar that has been produced for the event is a 7×48 Churchill with four different wrappers, each one inch long, that the entire group will smoke at the same time. Jose's animated presentation will test your cigar knowledge and open your eyes to how the wrapper of the cigar affects the final blend. During the 70 minute presentation, smokers will give their input and interpretation as well as learn from one of the world's renowned cigar masters.
Jose has given this seminar to groups including a 200 person event for the International Premium Cigar and Pipe Retailers and to small groups on Cigar Safari trips to Nicaragua. "This is the first event of this nature that I know of," says Blanco via Skype from Esteli, Nicaragua. "I think this will be a fabulous event for so many people. We have never been able to make this tasting seminar available to such a broad base of cigar smokers."
The event will take place on Thursday, June 21, 2012 at 8:00pm Eastern time and will also feature a 7:00pm presentation from Christine Morgan, @ladyofthestick who has an affinity for cigar wrapper in the hybrid cigars she creates on her The Lovely Lady of the Stick website http://thelovelyladyofthestick.com/.
The in-store event will host 50 participants and there will be a live streaming video feed of the event for 250 additional participants. On line viewers may purchase the Workshop Sampler for $50 with free shipping at www.fummecigars.com/estore until Friday, June 15, 2012 to allow time for shipping.
About Butthead's Tobacco Emporium:
Butthead's Tobacco Emporium was established in 1999 by Kevin Paige and operates three locations in Western Connecticut and on the web at www.buttheadstobacco.com. The Danbury, Connecticut store boasts an inventory of over 2,300 open boxes and a 3,500 sqft Stulz-humidified showroom.
Kevin Paige has been a cigar smoker for over 25 years and created Butthead's Tobacco Emporium to fill the void of quality tobacco shops in Western Connecticut. With over 25 years of convenience retailing and tobacco department experience, Kevin continues to strive to make Butthead's Tobacco a first rate destination for cigar smokers.
Butthead's Tobacco hosts cigar vendors at in-house events on a weekly basis and has hosted Benji Menendez, Ernesto Perez-Carrillo, Rock Patel, Nick Perdomo, Marvin Samel, Jaime & Janny Garcia, Mad Dog Radio personality Dino Costa, Luis Tiant, Tim Ozgener and more. Weekly events are also live streamed on the web and event specials are available for nationwide shipment with orders taken during the events.
About Jose Blanco:
Jose Blanco has been a cigar smoker for over 40 years. He honed his blending expertise for over two decades at La Aurora until his recent retirement in 2011. Currently, Jose is the Senior Vice President at Joya de Nicaragua cigars in Nicaragua and is in charge of blending and marketing.
Jose has been conducting workshops and tasting seminars for years and educated thousands of cigar enthusiasts. Not only is Jose able to impart knowledge in an easy manner, but he does it with a candid attitude that invites learning.
Source: This press release was sent from Butthead's Tobacco Emporium. To better promote the cigar industry, Cigar Coop will post press releases as a free service to all cigar companies and organizations that choose to send Cigar Coop press releases