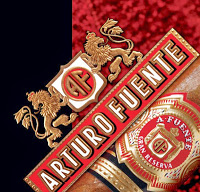 Arturo Fuente Cigars have announced that plans to commemorate the company's 100th anniversary have been postponed until 2013.  The following text was announced by the company.
To Our Friends,

There are times when fate has other plans for us, and this is one of those times. 

As you know, we planned to celebrate the 100th Anniversary of Arturo
Fuente cigars this year with several special events. However, fate
stepped in and handed us a series of personal and professional
challenges that have made this year a trying time. As a result, we have
decided to postpone our celebrations for a year. In 2013, we plan to
celebrate "YEAR ONE" of the next century of the Arturo Fuente Family of
cigars. 
We look forward to sharing the next century with you.
Sincerely,
Carlos P. Fuente, President
Earlier this year, Arturo Fuente Cigars revealed information on the Cigar Dave Show about four new cigars that would commemorate the company's centennial anniversary.  While nothing official has been said about the cigars, one can infer that some or all of these releases could be impacted by this delay.
While no specifics on the challenges were released, one may assume some of the challenges were due to an August 2011 tobacco fire that destroyed two tobacco warehouses of Tabacalera A. Fuente y Cia .  It destroyed some tobacco that was irreplaceable.   Carlos Fuente Jr. has said that they lost a "lot of tobacco" on an interview on Kiss My Ash Radio.