Date: June 27, 2012
FOR IMMEDIATE RELEASE
THE RAMON PUIG BRAND CELEBRATES A 40 YEAR ANNIVERSARY
THE CELEBRATION ALSO MARKS THE GRAND OPENING OF A NEW PUIG STORE IN DOWNTOWN MIAMI
(Miami,
Florida) June 27, 2012—This month marks the 40 year anniversary of the
Ramon Puig brand here in South Florida. Established by the now late Mr.
Puig, the legacy continues with his son Louis Puig. The reputable and
world famous clothing brand will not only celebrate four decades of
style, but also a new location this Thursday June 28th 2012, from 6:00-9:00PM.
The festivities will highlight the revamped brand via a by-invitation
Grand Opening of the new Downtown Miami store location and include a
presentation by Mayor Tomas Regalado.
Ramon
Puig opened his first guayabera store in Cuba in 1943, in the ancestral
home of the garment, Sancti Espiritus, the city of his birth. Since he
was a child, Puig showed an interest in tailoring and once of age, he
learned and developed his skills under a local tailor, and opened up his
first shop at the age of twenty-three. Soon after, he married a local
woman, Juana Maria, and taught her the skills he had developed so she
could assist him in his burgeoning business.
His
attention to detail, cut, and style soon led customers all over Cuba,
the Caribbean and South America to coin him "el mago de guayabera" (The
Guayabera Magician). The guayabera shirts he designed made of crisp
white linen, slimmed customers' waistlines and added to their appearance
a look of elegance. As his reputation grew, Puig drove to the major
cities in Cuba to take client's measurements, and then made the return
trip to personally deliver his custom fitted guayaberas.
In 1968, Puig departed his country and arrived in Miami, with his wife Juana Maria and his then eight-year old son, Louis.
In 1971 Puig was able to open his first shop in Little Havana, next to
Versailles restaurant and thereafter a larger one, further west on
Southwest eight street. Rapidly making connections in Miami's Cuban and
Latin community, he built his business into an International success
with client celebrities, actors, athletes and musicians such as Sylvester Stallone, Robert De Niro, Andy Garcia, Alex Rodriguez, Alonzo Mourning, Ice Cube
as well as every US President since Ronald Reagan who began sporting
Puig's authentic guayaberas. Reagan toured Miami wearing Puig's garments
and rechristened "El Mago de las Guayaberas" as "El Rey de las
Guayaberas" (The King of the Guayaberas).
Due
to the precision folds, cuts, and attention to detail, the Ramon Puig
Guayabera has become synonymous with cool. The comfortable and versatile
garment, appropriate for business meetings, social gatherings, family
events, and daily casual- wear gained current day popularity.
Maintaining traditional value of their ancestral homelands, the younger
Miami sector, being the pulse of fashion, has embraced Puig's authentic
garments as the style for social activities, including nights out on the
town at Miami's trendiest spots, and even as a fashion for wedding
ceremonies, with "guayabera weddings" becoming the recent trend in the
nuptial scene.
This uptake of the guayabera into the fashion world has led to renowned publications like GQ Magazine
to name Ramon Puig "the master of the guayabera" and the "greatest
guayabera maker". Beginning on June 28th, an exhibit at History Miami
will pay homage via "The Guayabera: A Shirt's Story". This exhibit will
explore the changing uses and significance of the guayabera and the
guayabera's evolution from a guajiro shirt in the late 1800s, into a
fashionable piece of contemporary menswear. On display will be
historical examples and photographs of the shirt that highlight its
changing uses and significance over time, its construction and the
tailors, fashion designers and tradition bearers who have played an
important role in its stylistic development. Puig's scissors which he
smuggled out of Cuba and his original 1940's guayabera will also be on
display.
Today,
Louis Puig is carrying the legacy of his father. "We must embrace the
past and understand the direction of the future in order to be
successful. We have added updated styles, fabrics and colors to further
expand our existent inventory and please our wide customer base. This
new store exemplifies the new direction we are taking our brand while
remaining true to the dedication and pride my father had for his craft.
For almost 70 years we have made the best and most authentic guayaberas
in the world, I am proud to continue my father's legacy."
The Ramon Puig Guayabera Store Grand Opening /40 Year Anniversary will take place Thursday, June 28th, 2012 6:00-9:00PM at 24 W. Flagler Street, Miami, FL 33130. DRESS CODE: Business or Cocktail attire. The event will be co-presented by: Bacardi, Oliva Cigar Co. Cigar Snob Magazine. Charity and promotional partners featured include: Neat Stuff for Kids, Sharing Smiles and the Greater Miami Convention & Visitors Bureau.
For information and media inquiries: info@creativasgroup.com . For store info, please log on via the web: http://www.ramonpuig.com. You may also find Ramon Puig Guayaberas on Face book.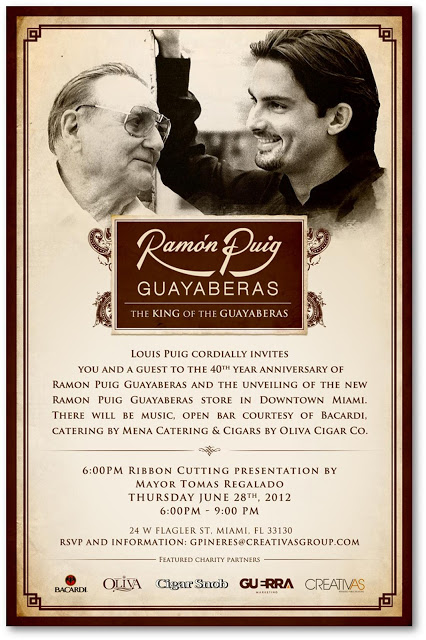 Source: This press release was sent by Creativas Group
Public Relations, a group that handles public relations for Ramon Puig Cigar Coop will post press releases as a service to all
cigar/cigar-related companies that choose to send Cigar Coop press releases.