Earlier this month, we officially launched the Cigar Coop Video Channel
on You Tube. The intent of this video channel is to supplement the
content on this web-site. From time to time, we will include some of
the content on this web-site that we feel is relevant to the mission of
this web-site. The following video was filmed in Nicaragua and is part of an on-going series being run during June and July 2012 of a visit I took to Drew Estate in Nicaragua. This video is the last installment of the series to be published on Cigar Coop, but there still will be two additional videos on the Cigar Coop Video Channel.
Achieving consistency with a blend and construction of a cigar is something cigar companies strive for. Depending on the factory, the process to accomplish this often varies. Jonathan Drew believes that consistency is a "fundamental philosophy" of the day to day operations of his company. In this video filmed at the Drew Estate Factory in Esteli, Nicaragua, Drew takes us through his company's philosophy when it comes to the quality control process around consistency. I personally have seen Drew explain this on two occasions and learned something new each time.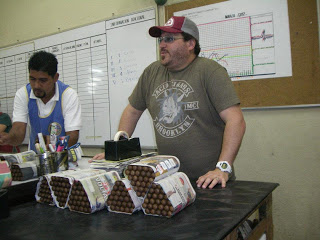 Drew explains the Quality Control Process (Photo from previous trip to Drew Estate than video below)
First up, Drew discusses the human element and how he feels that is key to being successful with the quality control process around consistency. Drew does not believe using a draw test machine for cigars, but by using workers to do this. As a result, Drew Estate employs 82 quality control workers whose job is to walk the factory floors to check for consistency in the areas of blend and construction.
In terms of the blend, Drew discuses the importance of using the right proportions of the tobaccos that need to be used by the buncheros. If these proportions are off, this can result in a blend being inconsistent from day to day. Part of his quality control workforce checks to make sure these proportions are in line with what expectations are.
Positioning of the tobaccos by the buncheros also plays a role in this area. This is why sometimes you get more/less strength and/or body at varying points of the cigar – and ultimately contributes to a cigar's complexity. Deviations of the positions can result in inconsistencies in this arena.
Drew also mentions that positioning of the tobaccos plays a role on whether a cigar is plugged or not. Drew shows an example of this by bunching newspapers to represent tobacco leaves. He explains how plugging always occurs under the band (and not anywhere else in the cigar).
Another interesting point in this video is how Drew explains why cigars are priced a certain way. He mentions materials, conditions of the workers, skills on the production floor, and quality control all play a role in the final price.