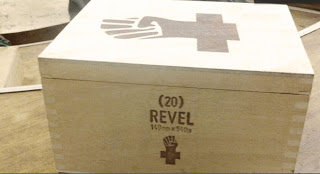 On or about August 2, 2012 – members of our elite squad will converge on the city of Orlando in the State of Florida. They will be armed with a significant number of samples of RAPTURE, the ultrasecret project born at our compound in Tamboril. They will also carry combat gear to hand out to our new recruits.
This project was constructed under the supervision of General Leon and has passed the rigorous testing from our fumadores and has now been approved for release.Rapture features a wrapper grown in Ecuador with seeds our operatives covertly obtained from the Vuelta Abajo in the Pinar del Rio region of Cuba. Our capote is an authentic corojo obtained from General Leon's private reserve and mixed with a blend of rare tobacco from Nicaragua, Brazil and the Dominican Republic.
We have formulated the delivery of RAPTURE into four distinct sizes: Perdition (4.5 x 50), Revel (5.5 x 54), Exodus (6.25" x 52 Torp) and Harasha (6" x 58). We will fund the revolution with sales from this operation. We expect to receive approximately $8 to $9 USD for each unit. Funds will be returned to our operation so we can acquire and release more unique munitions. As both Projekt Inception and Projekt TBM are nearing completion we anticipate significant activity in fine tobacco shops across America.
Select cigar retailers will be asked to join the revolution. We will choose very carefully as this project requires the unique skill of those who value quality over presentation.
You are instructed to let the people know that the revolution is near. Those who can handle intense flavor with a medium-to-full body are asked to take up arms and join the cause. Those who fail to — will smoke inferior product at their own peril.
Source: The press release was sent from Jason Holly of Viva Republica Cigars. Cigar Coop prints press releases as a free
service to all cigar companies