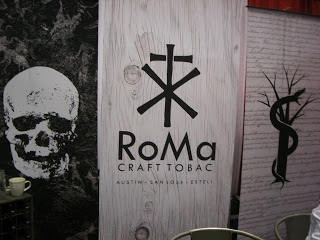 The 2012 IPCPR Trade Show was the first for RoMA Craft Tobac.   It was at the show where the company unveiled their latest blend, the Aquataine.
The Aquataine is the third new blend to be launched by RoMA Craft Tobac in 2012 (the Intemperance EC XVIII and Intemperance BA XXI are the other two).   The Aquataine is an off-shoot of the RoMa Craft Tobac CroMagnon line that was launched last year.  The one major differentiator between the CroMagnon and Aquataine is that the Aquataine uses an Ecuadorian Habano wrapper while the CroMagnon uses a Connecticut Broadleaf.
Earlier this year, RoMa Craft Tobac was launched as a collaboration between Michael Rosales and Skip Martin.  This collaboration combined the operations of their two companies, Costa Rican Imports, LLC and Galveston Bay Tobacco, LLC.  RoMa Craft Tobac's two collaborative efforts, the CroMagnon and Intemperance have garnered a lot of attention in the online community.  So far, most of the distribution of the CroMagnon and Intemperance has been sold through Martin's online Hava Cigar Shop.  While there have been some brick and mortar retailers signed up,  the 2012 IPCPR marked a chance for RoMA Craft Tobac to open up new accounts.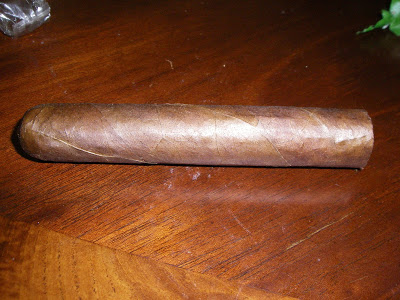 RoMa Craft Tobac Aquataine – EMH Vitola
Here is breakdown of the RoMa Craft Tobac Aquataine.
Blend Profile
As mentioned the Aquataine is basically an extension to the CroMagnon line.  The Aquataine has some similarities to the binder and filler in the CroMagnon line.
Wrapper: Ecuadorian Habano Ligero
Binder: Cameroon
Filler: Nicaraguan (3 Fillers): Esteli, Condega, and a ligero leaf from Pueblo Nuevo (a small farm north of Esteli on the Honduran border)
According to the RoMa Craft Tobac web-site, the Ecuadorian Habano Ligero is from eighth and ninth primings.
Vitolas Available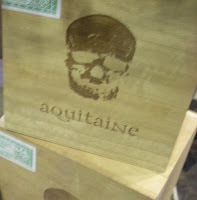 The Aquataine is available in the same five sizes as the CroMagnon.  Like the CroMagnon, the five sizes of the Aquataine are all parejos.  There is a sampler of all five sizes referred to as the Taxonomy.
The cigars are all unbanded.Knuckle Dragger (Petit Robusto):  4 x 52
Mandible (Petit Gordo): 4 ½ x 60
EMH (Early Modern Human) (Robusto Extra): 5 x 56 –
Anthropology (Grand Corona): 5 ¾ x 46
Cranium (Gran Toro): 6 x 54  .