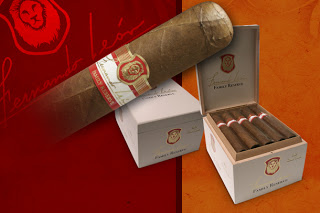 Miami, FL – In
1997, Fernando Leon of La Aurora Cigars traveled to New York City with
Nestor Miranda from Miami Cigar & Company. This was the first time
the head of La Aurora traveled to the United States for a cigar event.
The location was Cigar Inn and they were hosted by the Fakir Brothers.
Fifteen
years later, La Aurora Cigars is set to release the Fernando Leon and
what better then to have the official launch at Cigar Inn. This time
joining Gus, Billy & Bas will be the son of Don Fernando, Guillermo
Leon who heads La Aurora in the Dominican Republic.
This two-day marathon event starts on Tuesday, October 23rd with
a sold-out sit down dinner for Cigar Inn members. The dinner which will
feature the Fernando Leon will be catered by Rothmann's Steak house.
According
to Guillermo Leon, "My Father only shared the cigar with close friends
and family, it is only fitting that we release the Fernando Leon at
Cigar Inn. Ever since that event in 1997, Cigar Inn and its customers
have always been an extended part of our family".
At the request of Cigar Inn, the party will continue on Wednesday, October 24th,
when Miami Cigar & Company and La Aurora Cigars invite you to stop
by and experience this special cigar, the Fernando Leon for FREE, while
supplies last.
"We
are honored and privileged that La Aurora has chosen us for the release
of this cigar." adds Billy Fakir of Cigar Inn. "Fernando Leon was a
great man, who knew a lot about tobacco. We are happy to call the Leon
family our dearest friends and look forward to hosting this wonderful
event in the Cigar Aficionado Lounge".
Fernando
Leon was the head of La Aurora Cigars from 1950s until his passing in
2009. The son of Eduardo Leon Jimenes was a Master Blender before taking
on the role of President when his father passed. The cigar named after
him was the only cigar he smoked on a daily basis. He was 89 years old
when he passed. Today, his son Guillermo Leon heads La Aurora making him
the third generation of the Leon family business to run the company.