Assessment Updates will be posted on this web-site to: 1) Assess "pre-review" cigars that were not given a rating or score (typically pre-release cigars); 2) Provide numeric ratings to cigars previously assessed prior to the implementation of the numeric scoring system; 3) Provide a re-assessment and re-score of a previously assessed/scored cigar.  Today, we provide a numerical score to the Rocky Patel Fifty.  This was a cigar we assessed almost a year ago in November,2011.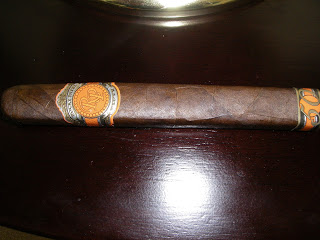 Rocky Patel Fifty (Toro)
The Rocky Patel Fifty was one of the most anticipated new cigars by Rocky Patel Premium Cigars.  It was one of four cigars that the company launched at the 2011 IPCPR trade show.  It is an ultra-premium cigar to commemorate company head Rocky Patel's 50th birthday.  The Fifty comes in three sizes, and 2000 boxes of each were produced.  Now almost 10 months after the release, the Fifty is starting to disappear from retailer shelves.  If you can still find one, you will find a cigar that has undergone some changes, but one that was still worthy of being our #12 Cigar for 2011.
The blend to the Rocky Patel Fifty features an a Ecuadorian Habano Oscuro wrapper.  The binder's origin is kept secret while the filler is Nicaraguan.  The Fifty comes in a box-press shape.  For this assessment update, we look at the toro (the same one we assessed last year)
The flavor profile is complex as it has some nice flavor nuances and transitions.  When I first described the Fifty, I mentioned it is a cigar that starts out with a contemporary flavor profile and switches to more old school.   This is something that is still the case.  The first half of the cigar has a nice combination of cocoa, exotic spice, caramel, and nuts.   The second half had more of a flavor profile of baker's spice, earth and nuts.  I had detected citrus notes last year, but they seemed less present this year.
More significant changes come around the attributes of strength and body as both seemed dialed back.  When I smoked the Fifty last year, this was a medium to full strength cigar (that was actually full strength by the end) and full-bodied.   I was amazed to find both attributes to be on the lower end of medium to full.  The dialing back actually works very well with this blend and makes it a lot smoother.
The construction is impeccable.  The burn and draw are flawless.  This cigar carries and SRP of $19.00 to $22.00.  While we don't factor price into our scores, we mention for awareness purposes only.
Click here for the original assessment done on this cigar.
Assessment: Memorable
Score: 93